Margvelashvili said:
'The worst years are gone now' and 'post-Soviet period is over';
'Development of a modern type of democracy has started';
Georgians are Europeans 'by nature';
He paid respect to outgoing PM Ivanishvili;
He addressed 'compatriots in Abkhazia and Tskhinvali Region';
He mentions 'de-occupation' in the context of international support;
'Georgia has a mission of becoming hub for cooperation';
Reaffirms priority of NATO, EU integration;
Reiterates commitment 'to further dialogue with Russia';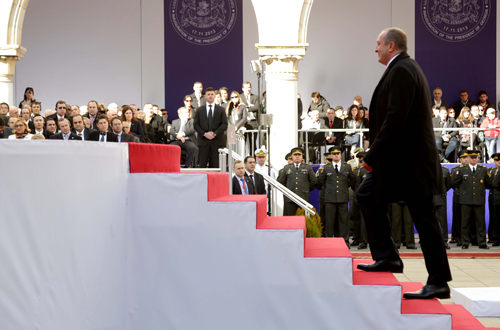 Giorgi Margvelashvili takes stage during his presidential inauguration ceremony on November 17.
Giorgi Margvelashvili, who was sworn-in as new president for a five-year term on November 17, said in his inauguration speech during a low-key ceremony that "the worst years are gone now."
With most of the powers going to prime minister under the new constitution, which went into force upon the inauguration of new president, Margvelashvili, 44, has far less powers than his predecessor Mikheil Saakashvili had during his almost ten years in office.
"The post-Soviet period is over," Margvelashvili said in his speech, stressing that peaceful powers transfer as a result of 2012 parliamentary and 2013 presidential elections Georgia moved "to a substantially new stage" of development.
"The development of a modern type of democracy has started, laying the foundation for a new, European kind of political culture," he said and vowed to be the president of all the citizens of Georgia regardless of their political views.
Citing need to minimize the cost, the authorities opted for a modest inauguration ceremony, which was held in the courtyard of former parliament building in the Tbilisi center. About GEL 800,000 was reportedly spent on the ceremony, five times less than Mikheil Saakashvili's inauguration in January 2008. Unlike previous inaugurations, the recent one was not open for wider public.
There was no military parade, although Georgian army troops from various military units were lined up at the inauguration venue, and unlike two previous presidential inaugurations, there was no spiritual oath-taking ceremony.
Invited guests, among them foreign dignitaries, government members and lawmakers from the GD coalition, were sitting around a white stage where Margvelashvili took the oath and from where he delivered the speech.
Ex-President Mikheil Saakashvili and his UNM party snubbed the invitation to attend the ceremony citing, as they put it, "witch hunt" against former government members.
NATO Secretary General's Special Representative for Caucasus and Central Asia, James Appathurai, who was present, described the event as "a sober, well managed ceremony - just the tone the Government wants to send, as it looks to its regional, European and Euro-Atlantic future."

Margvelashvili said Georgians are Europeans "by nature" and "an integral part of Western civilization."
"Until now, however, we have failed to translate being European into institutional dimensions," he said. "After October 1, 2012 we succeeded in laying the foundation for authentic European political processes."
In his speech Margvelashvili paid respect to outgoing PM Ivanishvili, saying that he "united us", which made it possible to accomplish "what seemed impossible, ensuring a successful political future for our country through a peaceful election."
Ivanishvili, who was sitting at the inauguration ceremony next to head of the Georgian Orthodox Church, Patriarch Ilia II, named his close associate interior minister Irakli Garibashvili as new PM to replace him. The prime ministerial nomination is expected to be approved by the GD-dominated Parliament next week.
Addressing "compatriots living in Abkhazia and the Tskhinvali Region", Margvelashvili said: "Let us build a successful democratic country together, a country that will guarantee the welfare of all citizens, preservation of their ethnic and cultural identity, and respect for their political rights."
When mentioning importance of support of international community and ties with Western partners, Margvelashvili said: "The policies of non-recognition of the occupied territories and de-occupation, international guarantees of Georgia's security, and participation in regional economic development projects are built upon these very relations."
Foreign policy was one of the key points of Margvelashvili's 13-minute inauguration speech in which he reiterated priority of EU and NATO integration and also stressed on commitment "to further dialogue" with Russia.
"Becoming a full member of the free world serves as a long-term guarantee of Georgia's national security and sustainable development. This, in turn, can be ultimately achieved by means of integration into the European Union and NATO," he said.
"Despite the difficult situation we are facing today and in parallel with integrating into European and Euro-Atlantic structures, we reiterate our commitment to further dialogue with Russia and build confidence to solve the problems existing today. This dialogue will be built upon unequivocal respect for Georgia's national interests, i.e. respect for our internationally recognized borders," Margvelashvili said.
He said that Georgia is making "an all-out effort" launch talks on free trade with the U.S., which, he said, "will strengthen our strategic ties even further."
"Georgia has a mission of historical significance of becoming hub for cooperation, dialogue, and concord between Europe and Asia," he said.
Margvelashvili also said that Georgia's "well-balanced regional policy must serve as a unifier of interests in the Caucasus".
He said that as the President, he will guarantee protection of the constitutional agreement between the state and the Georgian Orthodox Church, giving the latter important privileges compared with other religious groups in Georgia.
"At the same time, I will be a steadfast defender of the constitutional rights of representatives of all religions in Georgia," the new President said.
After the inauguration ceremony, which lasted about 35 minutes, Margvelashvili laid a wreath at a memorial of Georgian fallen soldiers on the Heroes' Square.
"On this important day, we came here to pay tribute to those heroes who have sacrificed their lives to the integrity and independence of Georgia and, at the same time, to voice their desire not to have war and not to have bloodshed of brothers in Georgia ever again," Margvelashvili said after the wreath-laying ceremony.
Also on Sunday Margvelashvili held over dozen of bilateral meetings with visiting foreign dignitaries.
In the capacity of the President, Margvelashvili held his first meeting with his Lithuanian counterpart Dalia Grybauskaitė, whose country now holds EU's rotating presidency and who was the highest-ranking foreign dignitary to attend the inauguration of the Georgian President.
Margvelashvili also met Azerbaijani Prime Minister Artur Rasizade; Administrator of U.S. Agency of International Development Rajiv Shah; president of upper house of the Austrian parliament Reinhard Todt; Deputy Prime Minister Kazakhstan Yerbol Orynbayev; Vice Prime Minister of Ukraine Oleksandr Vilkul; NATO Secretary General's Special Representative for South Caucasus and Central Asia James Appathurai; Foreign Ministers of Armenia, Kyrgyzstan and Romania; Deputy Foreign Minister of Iran Ebrahim Rahimpour; Minister of Labor and Social Security of Turkey Faruk Çelik; Minister of Culture of Qatar Hamad Bin Abdulaziz Al-Kuwari; OSCE Secretary General Lamberto Zannier.