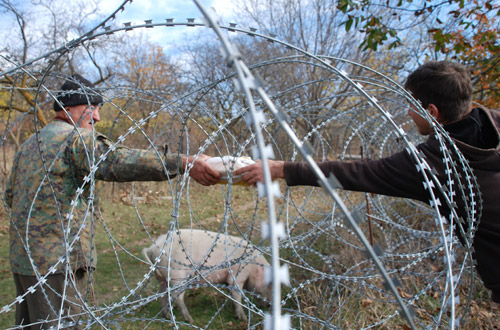 In Akhali Khurvaleti, Davit Vanishvili (left) has to rely on the villagers' help for basic support like food and medicine supplies after the wire fence cut him off from the rest of the village. Photo: Monica Ellena
Davit Vanishvili, an ethnic Georgian, and his wife Mariam, an Ossetian, have lived in Akhali Khurvaleti all their lives. But this summer, they woke up one morning to find that a barbed wire fence now cut their house off from the rest of the hamlet, also known as Bobveni.
"The Russians came along one day and told me I was now in South Ossetia. What do you mean? I asked them. I've lived here 80 years and it was always Georgia," says Davit, an energetic 79-year old farmer, talking across the razor wire. "It's South Ossetia, they replied".

Russian and South Ossetian soldiers have been slowly building a fence along parts of the administrative boundary line (ABL) that separates Georgia proper from South Ossetia since the end of the conflict between Russia and Georgia in August 2008. But they have stepped this "borderisation" process over the course of 2013, as the new trenches and surveillance devices near Davit's house show.
"The fence is now roughly 45 kilometer long," explains Florentin Dicu, Deputy Chief at the Gori Field Office of the European Union Monitoring Mission (EUMM), which monitors the Georgian side of the boundary line. "That affects 10 percent of the whole ABL. About 79 percent of it was built over the last year."
"The impact on everyday life in the communities is significant," he adds. In some cases, like in Bobveni, the fence goes through villages, splitting them in two. In the village of Ditsi, the fence even ran through a graveyard – until the EUMM objected, and the path was changed.
Nor is the fence guaranteed to remain in the same place. In the village of Dvani, for example, a Russian sign states that the barbed wire will soon be moved further into Georgian-controlled territory. Givi Makhachashvili, a 72-year old farmer, lives in his son's house 50 metres away from the sign. "My house was looted and burnt on September 22, 2008, and now it is on the other side of the fence. If they move the fence 50m, as they have told me, they will take this house too," he fears.
No Easy Options
The 6-point agreement that ended the August, 2008 war between Russia and Georgia did not spell out the precise demarcation line between the sides. Since Tbilisi and Tskhinvali refer to different maps, there is disagreement about precisely where South Ossetia begins. It is a particularly sensitive issue for the Georgian government which does not engage in any demarcation talks: defining the boundary clearly would be an implicit recognition that there is a legitimate boundary in the first place.
Before 2008, that did not matter as much. The demarcation line was porous, and people from both sides crossed relatively freely. "Farmers were able to access their land and for years Ergneti hosted a big market where Georgians and Ossetians could trade their crops and cattle. It was not ideal, but ordinary people had some freedom of movement," explains Natia Nadiradze, project officer at Saferworld, a British NGO that works with communities in Shida Kartli. The market was closed in 2004, but people were still relatively free to move.
But that changed after the 2008 war, as Aliosha Mekareshvili, a soft-spoken 55 year-old knows all too well. "I was the first person from Dvani to be detained by the Ossetian border guards after the 2008 conflict," he says. "They accused me of illegal trespassing and took me to prison in Tskhinvali. I had to pay a fine to be released."
"We live right on the boundary line, people can end up crossing without even knowing, like children," adds Zaal Akhalkatzi, a 50 year-old farmer also from Dvani. "Or cattle, how can a cow know? You go and chase your wandering cow and you end up detained in Tskhinvali. A lot of farmers were detained by border guards just for collecting firewood."
In 2012, 25 percent of all Georgian detainees in Tskhinvali were cattle-related, according to EUMM. At least the fence has removed the risk of crossing into South Ossetia accidentally, says another villager, who didn't want to be named.
But in places where the fence has not been erected, some people have little choice but to continue crossing the dividing line, like elderly to collect their pensions or children to attend the local school.
Community Mobilization
A number of outside organizations are trying to help the villagers increase their own sense of security. Akhalkatsi, whose house is located about 100 metres from the fence, is one of the 20 volunteers who form an informal network set up by Saferworld to report incidents and raise concerns.
"Fear for personal safety has decreased since 2009," explains Tabib Huseynov, Saferworld's programme manager. "Security incidents and detentions of people crossing into South Ossetia are still happening, but they are random and tend to be not violent in nature. But people's livelihoods are in danger, and fear for the vital access to water, land, and services is taking over personal safety."
Another NGO, Elva – which means lightning in Georgian – uses a phone texting platform to report security incidents.
"Each volunteer has been trained and given phones," explains Elva's director Jonnes Catshoek, a Dutch national who developed the system. "They send weekly information to a text messaging service and information centre, and report on security incidents as they happen. Information is then relayed to the relevant body within 30 minutes of an event occurring, which allows for a prompt response by the police, other authorities and international observers like the EUMM."
A text like "quest#a#a#sho2b#wed1c#7d#pol24ngo2" reads "two shootings have happened in the last week; citizens crossed into South Ossetia for a wedding party; the community sense of security is rated at seven on a scale of 1-10; the police patrolled 24 times, and NGOs patrolled two times."
In many cases, text messages sent out immediately after an incident have enabled a quick resolution of the security issue. A lot of conversations and information exchange also takes place through sending 'regular' SMS messages, such as requests for emergency assistance or exchanging lessons learned, Catshoek adds.
The Role of Diplomacy
With Moscow and Tskinvali tight-lipped, the reasons why the borderisation process has gathered pace in recent months remain unclear. Some analysts think that it is in preparation for the upcoming Winter Olympics in the Russian city of Sochi, which have led Russia to tighten up security measures - a view shared by PM Bidzina Ivanishvili. Others point to the Kremlin's pressure on neighbouring countries ahead of the Vilnius summit, at which Georgia is expected to initial an Association Agreement with the European Union.
The Prime Minister wants to defuse tension around the occupied territories of Abkhazia and South Ossetia. He stresses that diplomacy is the only weapon Georgia will use.
"We need to be patient, diplomatic but principled in our action," he says, adding that the current government wants to avoid the more confrontational approach of its predecessor. "Russia cannot take this territory away from our people. But resolving the problem needs time, it will not happen overnight or in a month. It will be a long-term process but it will happen."
An ad-hoc state commission was set up in October to tackle the effects the borderisation has on communities' lives. "We are doing our very best to supply the people living on the border with gas, heating and other essential things." Ivanishvili says.
But in Bobveni, Davit Vanishvili and his wife need more. They rely on villagers to pass them basic food and medicines through the barbed wire.
"I cannot get a pension in South Ossetia because I am Georgian, but I cannot get my Georgian pension either because I cannot cross the fence," he says. "Can someone tell me what to do?"
About the author:
Monica Ellena is a Tbilisi-based freelance journalist