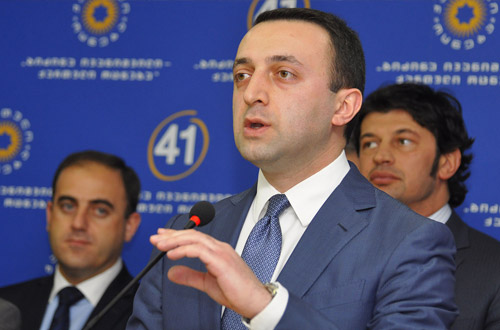 PM-designate and acting interior minister Irakli Garibashvili during naming of his incoming cabinet in the headquarters of the GD coalition on November 18. Acting minister of infrastructure and regional development Davit Narmania (left) and acting energy minister Kakha Khaladze (right) seen behind him. Photo: InterPressNews
PM-designate Irakli Garibashvili named on November 18 the same cabinet, which has been in place over the past one year, to face parliamentary confidence vote expected this week.
Standing along with current cabinet members in the headquarters of the Georgian Dream coalition in Tbilisi, PM-designate Irakli Garibashvili said on November 18 that all the ministers, who took their posts in October 2012 in PM Ivanishvili's government (agriculture minister Davit Kirvalidze was replaced by Shalva Pipia in spring, 2013), will retain their seats in his cabinet.
Garibashvili, 31, who has served as interior minister since October 2012, named earlier this month 28-year-old head of the Tbilisi police department, Alexandre Tchikaidze, as a candidate to replace him on the post of the interior minister.
"I have worked with this team for a year," Garibashvili said on November 18. "I have tested them in work."
"Last year Mr. Ivanishvili gathered people, who are distinguished by their honesty, sense of responsibility and professionalism," he said and added that this government worked "without significant mistakes."
"As batoni Bidzina says this is genuinely European team. Our ministers have proven that they are ready to serve their people and the country" Garibashvili said. "So I propose to you the same cabinet without any changes."
Also on November 18 President Margvelashvili signed a decree naming Garibashvili as a candidate for PM.
Parliamentary committees will start hearings into nominated cabinet on November 19 and the parliamentary session is expected to discuss the cabinet on November 20, according to GD lawmakers.
UNM lawmakers have complained about GD trying to hastily go through that parliamentary procedures required for confirmation of the cabinet.