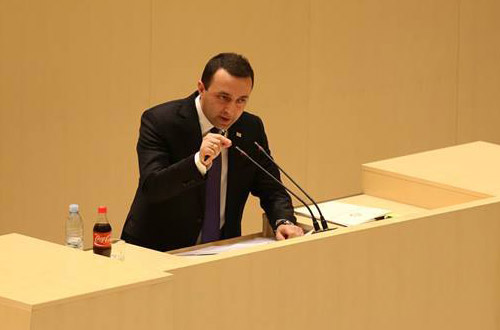 PM-designate and acting interior minister, Irakli Garibashvili, speaks during a meeting with UNM parliamentary minority group on November 19. Photo: Garibashvili's press office
PM-designate Irakli Garibashvili faced more than two hours of grilling from UNM parliamentary minority group on November 19 dominated by exchange of accusations.

Garibashvili, 31, will take constitutionally the most powerful office in the country after the GD-dominated Parliament confirms him on November 20 as next PM, replacing Bidzina Ivanishvili, who is departing from the post voluntarily.
Garibashvili, a long-time and close associate of the outgoing PM, said he "will always accept Bidzina Ivanishvili's advices."
Asked to name his major failure or a shortcoming during his tenure as the interior minister, Garibashvili responded: "We had no failure whatsoever."
Garibashvili, who was speaking assertively and at times scornfully in address of UNM lawmakers, was slammed by the opposition MPs for opting for an aggressive tone. At the end of the hearing a senior UNM lawmaker, Giorgi Gabashvili, told Garibashvili such tone was "completely irresponsible."
"For us you represent the government of one of the most unsuccessful periods; you are the government which has shortfall of hundreds of millions in the budget and which actually stopped economic growth; therefore the parliamentary minority will not support you," he added.
'Economy – We are Rectifying Your Mistakes'
During the hearing Garibashvili was often deflecting questions, including on economy, by starting blaming UNM and the previous authorities.

Asked how in his future capacity of PM he's going to tackle slowdown in economic growth and shortfall in tax revenues, Garibashvili responded by reading out from prepared notes, that economic growth of previous years was mainly a result of state-funded large-scale infrastructure projects, which, he said, had only "one-time and short-term effect" and the economy started to slow down in summer 2012 before GD came into power. Echoing finance minister Nodar Khaduri's remarks made during a parliamentary debate last week, Garibashvili said the economy is now starting moving out of "shock" in which it was left by the previous government.
When asked again to specify how he was going to resolve shortfall in tax revenues, Garibashvili said that the government has "a concrete plan for that", but he did not speak about details.
When MP Giorgi Kandelaki told him that instead to deliver with its pre-election promises, GD's policies resulted into economic slowdown, Garibashvili responded to lawmaker that he was "skillful in lying."
"Not a single promise that we gave has been left without fulfillment. We delivered more than we promised," the PM-designate said.

Asked what's the purpose of government's plan to issue next year GEL 400 million worth of treasury bills on the domestic market, Garibashvili initially referred the question to the finance minister, but when asked again, he responded that it's needed "in order to repay obligations taken by you" – referring to the previous authorities.
"We are rectifying mistakes made by you, because you destroyed the economy; you were going to develop economy through some temporary stimulus measures," Garibashvili said.
When later during the hearing he was asked again about the economy, Garibashvili responded that this question had already been asked, "so ask me something new."

'UNM – Neo-Fascist Regime'
UNM MP Givi Targamadze told the PM-designate that during his tenure as interior minister "a dangerous trend" of downgrading the role of special task forces became obvious. He accused Garibashvili of downscaling special purpose unit based in Karaleti, not far from the administrative boundary line with breakaway South Ossetia.
"If there is someone who has done something for the special task forces, that's me. I am and will stay the largest supporter of the special task forces. Their bases were in the grave condition and I am the minister, who started renovation of their bases… You are skillfully trying to mislead the public and you are lying that I have such [negative] attitude towards the special task forces… You are shamelessly claiming that I fight against the special task forces," Garibashvili said.
He also told MP Targamadze that thousands of people were illegally prosecuted when UNM was in government. "We can freely state that your regime was kind of a neo-fascist formation," Garibashvili said.
During the hearing Garibashvili said that the main achievement of the 2012 parliamentary election through which GD came into power was "return of freedom" in Georgia.
"Any citizen can express opinion freely… Your democracy was a façade democracy, built on lies. You were all afraid of your leader [Mikheil Saakashvili], you were afraid to censure him, because prison was terrible where people were raped with brooms and batons," Garibashvili said.
'I won't Accept This Question from You'
Garibashvili was also asked about practice of deploying agents from the Interior Ministry in various state agencies and also in the public TV, a practice which is a holdover from the Soviet times when KGB agents were attached to every state institution and which was also practiced under the previous governments. The practice is illegal in case of public TV and the communications regulatory agency – entities that have to be completely independent from any meddling from the state; there such agents are formally registered as "advisers".

Asked about this practice, Garibashvili responded that this question in itself was demonstrating "how unfair" UNM is.
"For years you knew very well about those ODRs," said Garibashvili, referring to informal name of those agents, which is from the Russian abbreviation ОДР (active reserve officer).
"You knew about it but you have never raised it because you could not dare. I will not accept this question from you; you were in power for nine years and you could have asked this question to my predecessor," Garibashvili said.
At that point UNM MP Giorgi Baramidze interrupted Garibashvili by telling him angrily: "Stop these dishonest lies. Where do you think you are?.. Watch your mouth and let's respect each other."
"Keep your emotions. You should have talked like this with Mikheil Saakashvili," Garibashvili responded and also told Baramidze to say at least one case when he publicly criticized Saakashvili. MP Baramidze said that he publicly spoke out against Saakashvili's decision to pardon those who were convicted for murder of Sandro Girgvliani.
'You Staged Terrorist Acts Against Own People'
MP Baramidze and Garibashvili sparred again when the PM-designate was speaking about investigation into 2008 election day blast in Khurcha on the administrative boundary line with breakaway Abkhazia. The incident was blamed by the previous authorities on the Abkhaz side, although UN observers at the time questioned Tbilisi's official version of events. Last month the Interior Ministry detained two of its former employees and accused them of carrying out the attack.
"You were staging terrorist acts against own people," Garibashvili told UNM lawmakers during the hearing, adding that by "you" he meant the previous authorities. "It's time to admit mistakes otherwise you won't be able to integrate."
"Whom are you telling it?" Baramidze reacted angrily. "What should we admit?"
"The fact that you staged terrorist act against own population," Garibashvili responded.
"You are a liar. You have no right to say it. Only judge has the right to say it. Do not think that your groundless slander will be left unanswered," MP Baramidze told the PM-designate.
Garibashvili said that the investigation into the Khurcha incident was ongoing to find out who gave the order to organize the terrorist act.
UNM MP Goga Khachidze told Garibashvili that the way he was answering questions "could have been somehow tolerable" when he was the interior minister, but it was completely unacceptable in his capacity of future PM.
"I think even your colleagues are looking at you with a bit of concern," MP Khachidze said referring to other ministerial nominees, who were sitting in the chamber.

'Nepotism – Ask Something Serious'
UNM lawmakers have long been accusing Garibashvili of "nepotism" and employing in the interior ministry his relatives. His father-in-law's cousin, Zviad Jankarashvili, is head of the Interior Ministry's internal investigations unit.
When asked about it during the hearing, Garibashvili responded sarcastically: "Thank you very much for such a serious question… A serious answer on this question is impossible."
"Aren't you ashamed when you speak about corruption and nepotism?" he told UNM lawmakers. "Almost all of your relatives and family members were for years working [in state structures] and are still working… President Saakashvili was giving away state property for one lari to his family members. Where were you at the time? But at the time you were afraid to speak out about it," Garibashvili said with UNM MPs responding that it was a lie.
Question about this issue was also asked to interior minister-designate Alexandre Tchikaidze, the only newcomer in the incoming government.
But when UNM MP Irma Nadirashvili was asking Tchikaidze if he was going to promote nepotism in the ministry like Garibashvili did, the latter was interrupting MP Nadirashvili with sarcastic remarks. "Let me finish my question," MP Nadirashvili told the PM-designate and the latter responded: "We were letting you for nine years [when UNM was in power], now you should let us."
"It's not a behavior appropriate for a prime ministerial candidate," MP Nadirashvili responded.
When after a verbal sparring with Garibashvili MP Nadirashvili at last asked Tchikaidze whether he too was going "to employ his relatives and friends in the ministry", the interior minister-designate responded: "If my relatives are good professionals then why not."
"It's getting boring, ask something serious," Garibashvili told UNM lawmakers.
Relations with Russia
During the hearing foreign policy issues was touched upon only very briefly when Garibashvili was asked on the matter in the context of Russia. He said: "We have not changed our foreign policy. You know that we had a very prompt and strict reaction to any provocation from Russia – whether it was 'borderisation' or something else. Each member of the government, including its head [Ivanishvili], was making very sharp and strict reaction."
'Russian Spies'
Issue over which UNM and Garibashvili were of the same opinion during the hearing was that it was, as the PM-designate put it, "mistake" to release from jail those convicted for espionage in favor of Russia.
He said it was "a mistake" by the GD parliamentary majority group to include persons convicted for espionage in the list of "political prisoners" and to release them as part of a broader amnesty in January, 2013.
"I was against of that and I spoke out publicly about it at the time and I still think so," Garibashvili said.
Praises from GD
After the meeting with the UNM parliamentary minority group, the PM-designate and other ministerial candidates met GD parliamentary majority group.
In his opening remarks at the hearing GD parliamentary majority leader, MP Davit Saganelidze, thanked PM-designate and other incoming cabinet members for "standing before the opposition in dignified way and demonstrating opposition's meagerness."