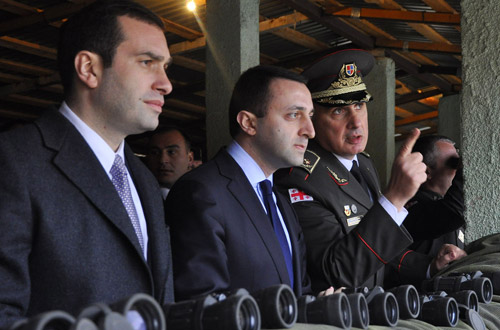 From left to right: Defense Minister Irakli Alasania, PM Irakli Garibashvili and newly appointed chief of the general staff of the armed forces, Man. Gen. Vakhtang Kapanadze observe drills of special operations forces in Tbilisi on November 22. Photo: InterPressNews
Vakhtang Kapanadze has been appointed as new chief of general staff of the armed forces, replacing Col. Irakli Dzneladze.
Col. Dzneladze served on the post since December, 2012 and his appointment was a compromise between then President Saakashvili, who under the previous constitution had the final say in appointing army chief of staff, and Defense Minister Irakli Alasania, who wanted on the post Vakhtang Kapanadze; up until now the latter served as deputy chief of staff of the armed forces. Kapanadze was chief of army staff for six months in 2004.
Kapanadze, 53, has also been promoted from the rank of brigadier general to major general.
Former and new chiefs of the general staff, as well as defense minister Irakli Alasania, met President Margvelashvili and PM Garibashvili on November 22.
Also on November 22 the President and the defense minister visited fourth brigade of the armed force at the Vaziani military base outside Tbilisi.
"We are proud of you," President Margvelashvili said in his address to the troops. "While declaring peaceful resolution of any problem as unchanged course of the country, we are obliged to work permanently on increase of our defense capabilities."