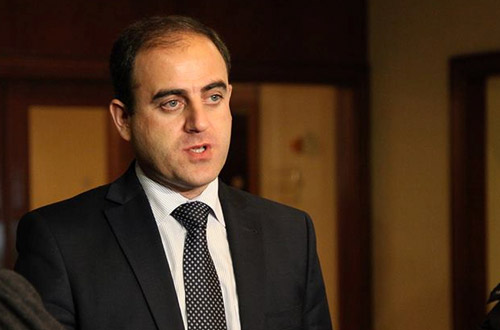 Minister of Regional Development and Infrastructure and Davit Narmania, November 21. Photo: MRDI press office
Minister of Regional Development and Infrastructure, Davit Narmania, will be Georgian Dream coalition's mayoral candidate in the capital Tbilisi in the local elections scheduled for spring, 2014.
GD coalition said in a brief written statement on Saturday that the issue was discussed at a meeting of coalition leaders on November 22.
Before the presidential election in October, then PM Bidzina Ivanishvili said that he had already had "in mind" who might be a candidate for Tbilisi mayor.
"I have a very dignified candidate," he told Imedi TV on October 21, adding that Tbilisi mayor first and foremost "should be a good manager."
Narmania, 34, said on Saturday that he will be a technocrat rather than a political mayor.
"Over the recent days consultations were ongoing between me and coalition leaders. I am ready to be where the country needs and, in this particular case, to tackle difficult challenges that the capital city faces," Narmania said.