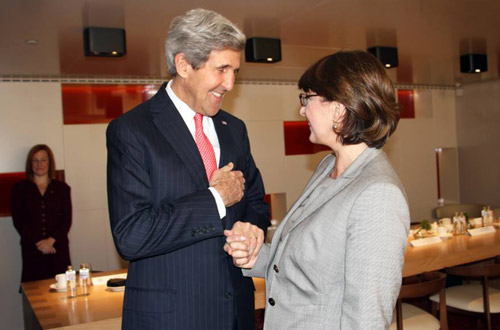 U.S. Secretary of State, John Kerry, and Georgian Foreign Minister, Maia Panjikidze, Brussels, December 3. Photo: Georgian MFA
Georgian Foreign Minister, Maia Panjikidze, met U.S. Secretary of State, John Kerry, in Brussels on December 3.
Panjikidze said after the meeting that "all the issues of bilateral relations", as well as Georgia's Euro-Atlantic aspirations and relations with Russia were discussed.
The meeting was held on the sideline of NATO foreign ministerial meeting, which is held in the NATO headquarters on December 3. NATO-Georgia Commission will hold a meeting on foreign ministerial level on December 4.
Foreign Minister Panjikidze said that the U.S. Secretary of State has welcomed Georgia's initialing of Association Agreement with the EU and "expressed hope that this agreement will be signed soon", which, Panjikidze said, will also "give a new impetus to trade dialogue" between Georgia and the U.S.
"We also spoke about Russia, Georgia's positive steps towards Russia, Russia's response to these positive steps and Abashidze-Karasin talks. But at the same time we noted with regret that despite of this positive dynamic, Russia continues placing barbed wire fences [along the breakaway South Ossetia's administrative boundary line], which may seriously impede confidence building between Georgian and Abkhaz, as well as Georgian and Ossetian people," Panjikidze said.
"We also spoke about possible pressure, which Russia may exert on Georgia before we sign the Association Agreement [with the EU]," she said.
"NATO is one of the key topics of our dialogue with the United States; we spoke about our expectations; of course the decision of [2008] NATO Bucharest summit [that Georgia will one day join the Alliance] stands and [NATO] stated at the Chicago summit [in 2012] that two elections were ahead of Georgia, which were tests for democracy. I repeat it often that I hope the 2013 presidential election was our last test in democracy, because it was genuinely European election, free and fair. I stressed on progress made by Georgia over the past one year… and expressed my hope and desire that at 2014 NATO summit will bring concrete result for Georgia," the Georgian Foreign Minister said.
Georgia's ambassador to the U.S., Archil Gegeshidze, who attended the meeting said that Secretary Kerry "pledged to visit Georgia no later than spring" 2014.
Speaking about the agenda of two-day NATO foreign ministerial meeting, NATO Secretary General Anders Fogh Rasmussen said that NATO-Georgia Commission will discuss "how to further enhance our cooperation after successful elections processes."
"I welcome Georgia's clear determination to pursue the path of reforms, and its aspirations for Euro-Atlantic integration. And I welcome the fact that Georgia and Moldova initialled their association agreements with the European Union last week in Vilnius. NATO's position is very clear. It is every country's sovereign right to choose its own path, and its own affiliations. Our goal is a Europe whole, free and at peace, and sharing common values," Rasmussen said.