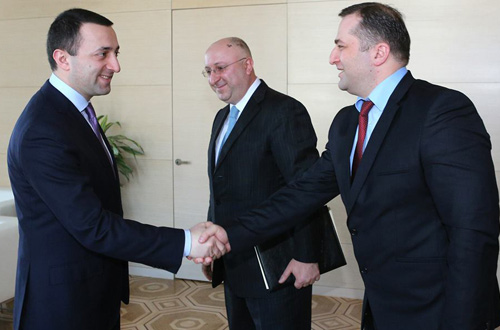 PM Irakli Garibashvili shakes hands with new head of the intelligence service Davit Sujashvili as former chief of intelligence Gela Bezhuashvili seen in the center, December 27, 2013. Photo: PM's press office
Davit Sujashvili has been appointed as new head of the intelligence service, replacing Gela Bezhuashvili.
Sujashvili has served as head of the Interior Ministry's information and analytical department since late 2012 and before that he served in the intelligence service since 1999.
PM Irakli Garibashvili met on December 27 both former and new heads of the intelligence service. He said that development of the intelligence service represents a "priority".
2014 state budget envisages increase of funding of the service from this year's GEL 5 million to GEL 8 million.
The PM thanked Bezhuashvili for his service. Bezhuashvili was chief of the intelligence service since February, 2008; before that he served as foreign minister; Bezhuashvili is brother of MP Davit Bezhuashvili, who quit UNM parliamentary minority group in November.