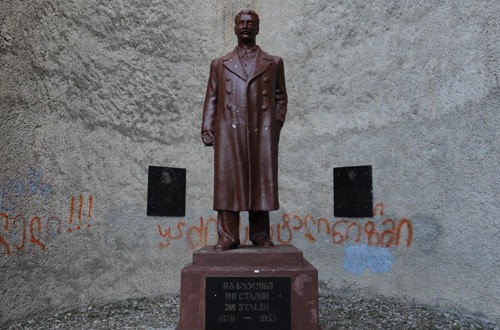 This statue of Stalin stood at a memorial to soldiers fallen in the World War II on a hill overlooking town of Telavi in Georgia's eastern region of Kakheti before it was removed on December 31. It was sprayed with orange paint soon after it was erected in September; while the statue was washed, graffiti reading "down with Stalinism" remained on the wall behind the statue. Photo: Eana Korbezashvili/Civil.ge
A statue of Stalin was removed in the town of Telavi in the Kakheti region on December 31, four months after it was erected.
The statue, which stood at the World War II memorial on a hill overlooking Telavi, was unveiled on September 1 upon an initiative of a local Stalin society, which received a permit to erect the statue in April 2013 from then head of the local administration.
Shortly after it was erected the local authorities said that the move was not legal and after the local Stalin society ignored local authorities' order to remove the statue, the local administration announced public tender to select an entity to implement removal works.
The Foundation for Civic Education, co-founder of the Tbilisi-based Tabula media outlet, which was the only bidder in the tender, implemented removal works.
On December 25 Parliament approved with its third and final reading amendment to the Liberty Charter aimed at actual enforcement of measure to prevent public display of symbols of totalitarian communist regime.
The bill, according to one of its co-sponsors MP Levan Berdzenishvili from the Georgian Dream parliamentary majority group, was prompted by several cases of restoration of Stalin monuments in the provinces.