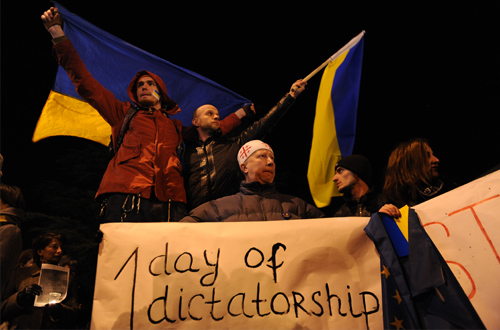 A rally in solidarity to protesters in Kiev was held outside the Ukrainian embassy in Tbilisi on January 23, 2014. Photo: Eana Korbezashvili/Civil.ge
Parliament adopted unanimously with 118 votes a statement expressing "extreme concern" over developments in Ukraine and saying that Russia will not be able to force either Georgia or Ukraine to reject their European choice.
This is the second statement adopted by the Parliament on developments in Ukraine in past six weeks. The first one was passed on December 11, but unlike now, at the time the previous statement was not supported by the UNM parliamentary minority group, citing that its wording was not strong enough in respect of Russia.
Text of the recent statement was draft jointly by GD and UNM lawmakers and passed unanimously.
"I wish to have such unanimity at least sometimes, not often, over internal affairs too," parliament speaker Davit Usupashvili said after the vote on January 23.
Text of the statement reads: "The Parliament of Georgia expresses extreme concern over developments of recent days in Ukraine and use of force against peaceful citizens that resulted in human deaths and severe health injuries. We express sorrow and offer our condolences to the Ukrainian people."
"The Parliament of Georgia condemns any form of violence and escalation of situation, which may lead the country to a large-scale civil confrontation."
"The Parliament of Georgia shares the spirit of the statements made by the European Union and the United States and believes that use of force and escalation of tension will not bring the country out of the political crisis."
"We call on the both sides to find a solution only through a dialogue. In this process main responsibility lies with the Ukrainian authorities, which should spare no efforts to launch a dialogue with the opposition and civil society sector in order to overcome the crisis and to defuse the situation."
"The Parliament of Georgia expresses full solidarity to the Ukrainian people's aspiration to become a full-fledged member of the European family, founded on freedom, rule of law and human rights, and [the Parliament] is confident that Russia will not be able to change either Ukraine's or Georgia's European choice through forcing them not to sign the Association Agreement."
Ukrainian flags were on display in the Parliament chamber in Kutaisi and in Tbilisi a group of people rallied outside the Ukrainian embassy in solidarity to demonstrators in Kiev on January 23. A similar rally was also held in Tbilisi a day earlier outside the former Parliament building on the Rustaveli Avenue.
Georgian PM Irakli Garibashvili, who is now in Davos for the World Economic Forum and who released a written statement on developments in Ukraine on January 22, said in an interview with CNBC on Thursday that recent development in Ukraine is "terrible" and condemned the violence.
PM Garibashvili said that "pressure" on and "provocation" against Georgia is expected from Russia, but stressed that unlike Ukraine, Georgia is "less dependent on Russia". He also said that Georgian government's European choice is backed by overwhelming majority of the Georgian public.