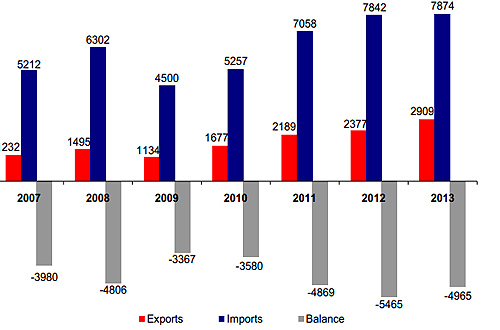 Georgia's foreign trade figures between 2007 and 2013 in million U.S. dollars. Source: Geostat
Georgia's foreign trade increased 6% year-to-year in 2013 to USD 10.78 billion with the trade gap decreasing by 9.1% y/y to USD 4.96 billion, according to figures released by the state statistics office, Geostat, on January 24.
Exports increased 22% y/y to USD 2.9 billion in 2013 and import amounted to USD 7.87 billion, a 0.4% increase over 2012.
Turkey remains Georgia's largest trading partner with total turnover of USD 1.52 billion, a slight decrease over 2012. Import from Turkey amounted to USD 1.34 billion in 2013, a 3.6% y/y decline, and export was only USD 182.8 million, a 28.1% y/y increase.
Azerbaijan is Georgia's second largest trading partner with turnover of USD 1.34 billion. Azerbaijan is among those 40 countries with which Georgia has a positive trade balance due to re-export of vehicles (USD 345.6 million). Exports to Azerbaijan reached USD 710.2 million in 2013, a 13.3% y/y increase and import amounted to USD 638.1 million, less than 1% increase over the previous year.
Ukraine is Georgia's third largest trading partner with USD 795.1 million trade turnover in 2013. Value of exported goods to Ukraine increased 15.4% y/y to USD 192.7 million and import was USD 602.3 million, less than 1% increase over 2012. Non-denatured ethyl alcohol and spirits lead the pack in exports from Georgia to Ukraine with USD 33.2 million, followed by wine – USD 30.4 million; compared to previous year, in volume export of wine to Ukraine was almost the same in 2013, but in value it increased by 11.3% y/y. Georgia exported USD 29.5 million worth of mineral and fresh water to Ukraine in 2013.
Russia, which was Georgia's sixth largest trading partner in 2012, became the fourth one in 2013 after Moscow allowed import of Georgian products on its market.
Total trade turnover with Russia increased 33% y/y to USD 779.6 million in 2013, mainly due to four-fold increase in export to USD 190.2 million. Import from Russia amounted to USD 589.4 million, a 24.4% y/y increase.
China is Georgia's fifth largest trading partner with USD 597.5 million turnover, followed by Germany – USD 522.3 million; Armenia – USD 497.6 million; the United States – USD 390.3 million; Bulgaria – USD 350.7 million; Romania – USD 328.3 million, according to Geostat figures.
Georgia's trade turnover with the EU-member states amounted to USD 2.87 billion in 2013, a 3% y/y increase, accounting 27% of country's total trade turnover. Georgia's export to EU-member states reached USD 608 million, a 72% y/y increase and import from the EU declined by 7% y/y to USD 2.27 billion, according to Geostat.
Re-export of cars lead the pack in Georgia's total exports with USD 703.8 million (19.8% y/y increase) in 2013, followed by ferroalloys with USD 229.8 million (11.7% y/y decline); export of hazelnut doubled over the previous year to USD 166.7 million in 2013. Export of copper ores and concentrates saw three-fold increase to USD 161.6 million, followed by nitrogen fertilizers with USD 130.5 million (4.8% decline).
Export of wine doubled to USD 127.8 million in value in 2013, mainly attributed to reopening of the Russian market, and export of mineral water saw 80.1% y/y increase to USD 106.8 million in 2013.
Export of non-denatured ethyl alcohol and spirits amounted to USD 99.8 million (24.8% y/y increase), followed by raw or semi-processed gold with USD 73.3 million (16.6% y/y decline).
Oil products still top the list of imports totaling USD 954.4 million making its share in total imports 12.1% in 2013; followed by cars with USD 710.4 million (9%); hydrocarbons - USD 300.9 million (3.8%); medicines - USD 280.7 million (3.6%); wheat - USD 184.3 million (2.3%); mobile and other wireless phones - USD 152.1 million (1.9%); copper ores and concentrates – USD 113 million (1.4%); cigarettes – USD 95.6 million (1.2%); computers – USD 90.1% million (1.1%); trucks – USD 79.4 million (1%).