'EU and other countries, including Russia, should come together and find solution' to crisis in Ukraine;
'Georgia takes only constructive steps' towards Russia;
'It was really hard for us to take this decision' to participate in Sochi Olympics;
Russian MP thanked Garibashvili for 'constructive and accurate' presentation of Russian-Georgian ties;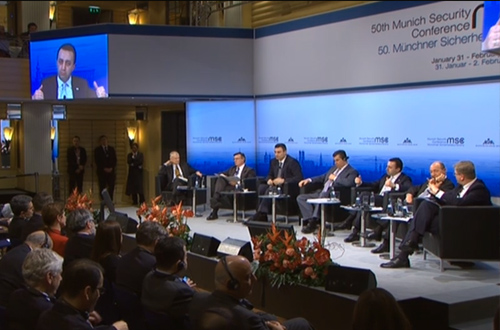 A screengrab showing Georgian PM Irakli Garibashvili speaks at a panel discussion during the Munich Security Conference, February 1, 2014.
Georgian PM Irakli Garibashvili spoke of relations with Russia, European aspiration and touched upon developments in Ukraine during his address to the Munich Security Conference on February 1.
Garibashvili was speaking at a panel discussion on Eastern Europe, which was dominated by debates on developments in Ukraine. The panel, moderated by EU Commissioner for Enlargement and Neighbourhood Policy Štefan Füle, also included Romanian President Traian Băsescu; Ukraine's acting Foreign Minister Leonid Kozhara; leader of Ukraine's UDAR opposition party Vitali Klychko; chairman of Russia's State Duma committee on CIS and Eurasian integration Leonid Slutsky, and former U.S. national security advisor Zbigniew Brzezinski. Vitali Klychko was the one who stole the limelight of the panel discussion; his address, articulating Ukrainian opposition's take on developments in his country, drew strong applause from the audience.
Before Georgian PM's remarks, Romanian President Traian Băsescu spoke about the need for the EU to have "much stronger approach", which, as he put it, will allow the Eastern Partnership states to see the perspective of membership.
"You can't just invite them to associate with the European Union," he said. "This [association] does not guarantee that you would ever get inside the EU. So I believe the EU should be much more firm and much stronger in creating for this countries perspective for becoming EU members when they meet the criteria."
The Romanian President also said that the EU should make resolution of frozen conflicts a priority.

"This issue must be solved once and for all, because these countries themselves know that they don't have the perspective of the EU membership as long as they have frozen conflicts on their territories," Băsescu said.
In follow up to what the Romanian President was speaking about the membership perspective, moderator of the panel, Commissioner Füle, asked PM Garibashvili how important that "light at the end of the tunnel" is for Georgia, which initialed the Association Agreement with its deep and comprehensive free trade component with the EU at the Vilnius Eastern Partnership summit in November, 2013. Garibashvili did not address specifically that issue in his remarks.
Garibashvili started by speaking about Ukraine, reiterating Georgian government's position, which in general is about avoiding taking sides.

"We are extremely concerned about developments in this country," Garibashvili said of Ukraine, which he described as Georgia's "friendly" and "partner" country.
"The Georgian government condemns any violence; this is of course unacceptable and I do believe that the Ukrainian government, together with the people, together with the opposition will find a way out of this crisis."
"I think that the European Union and other countries, including Russia, should come together and find a solution. I am confident that solution exists," Garibashvili said.
He then continued by saying that 2013 was a "difficult" year for Georgia because of political cohabitation period, but also added that it was a "very successful" year because of peaceful power transition.
Garibashvili reiterated Georgia's European course, noted overwhelming public support to EU integration and said that by initialing of the Association Agreement "the European integration process became irreversible" for Georgia.
He said that signing of this agreement with its free trade component "hopefully in August" will create "tremendous opportunities" for Georgia and thanked the EU leadership for "speeding up" the process to prepare the agreement for signature.

"Georgia is a small country, but we see Georgia as a regional hub… It has a potential to become a regional hub," he said.

On relations with Russia, he said that when GD came into power "we absolutely changed our approach vis-à-vis Russia; we changed our rhetoric."
He said that Georgian PM's special envoy for relations with Russia, Zurab Abashidze, is "working closely" with his interlocutor from Russian, deputy foreign minister Grigory Karasin.

The PM said that as a result Georgia "improved", what he called, "technical relationship" with Russia, referring to trade, economic and people-to-people contacts. He said that Russia started to gradually open its market for the Georgian products.

"We did our best to normalize our relations with the Russian Federation," Garibashvili said.

He said that the Georgian government's approach is to take "only constructive steps" vis-à-vis Russia.
"But still we've been facing some provocations along the occupation line last year," he said, adding that installation of barbed wire fences along the administrative boundary line of breakaway South Ossetia creates lots of problems for the local population.
He noted that the Georgian government "decided not to boycott" the Winter Olympic Games in Sochi.
"It was really hard for us to take this decision, because we have this unsolved conflict with our brothers, Abkhazians and South Ossetians," he said, adding that Tbilisi also offered Moscow cooperation in security for the Sochi Olympic games.

In his remarks Garibashvili downplayed assumptions that Russia may increase pressure on Georgia after the Sochi Olympic Games and suggested that Moscow lacks levers vis-à-vis Tbilisi saying that compared to Ukraine Georgia is "less dependent" on Russia.
The Georgian PM also said that Georgia and its Western partners "have to convince Russia that Georgia's aspiration to become the member of the European Union is not a threat to Russia."
"Georgia simply tries to become a better country; we want to become a strong, free, democratic European country and it should be in Russia's interest as well," he said.
He also said that there was a slowdown in Georgia's economy in 2013 because of "political instability," but by the end of the year growth, he said, accelerated.
When it came Russian lawmaker Leonid Slutsky's turn to speak, he started his address by thanking PM Garibashvili.
"I would like to thank Irakli Garibashvili for a very constructive and accurate presentation of relations between Georgia and Russia," MP Slutsky said. "Indeed, despite many problems that we face today, we are opening new constructive chapter in relations between Georgia and Russia. Thank you Irakli very much."
In his closing remarks, moderator of the panel, Commissioner Füle, raised again the issue of the EU membership perspective for the Eastern Partnership countries and said that in order to transform this part of Europe the Association Agreement has to be only the first step and "the next one should be the light at the end of the tunnel."
"You cannot transform this part of the Europe without using this most powerful instrument, which was used so successfully in Central Europe and is being used now in Southern Europe," Füle said.