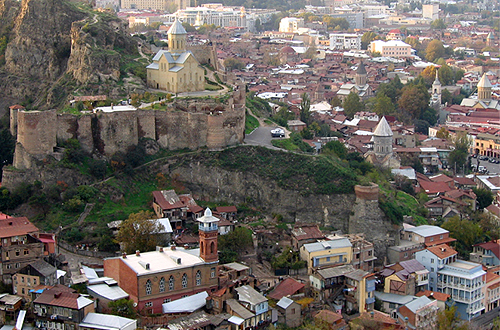 A file photo in which Georgian Orthodox church, Armenian church and a mosque are seen in Tbilisi's Old Town. Photo: Guram Muradov/Civil.ge
The Georgian government adopted a decree laying out rules and procedures for allocation of state funds to four minority religious confessions in the country as a "partial compensation for damages inflicted by the Soviet totalitarian regime."
The decree, which was published on January 30 on the state online registry of legal acts, makes eligible for state funding Diocese of the Armenian Apostolic Church in Georgia, Roman Catholic Church in Georgia, Muslim and Jewish groups.
According to the decree state funds should be allocated "annually" from the state budget.
The decree does not specify amount of funding; it says that a state inter-agency commission on religious issues will recommend the government precise amount of funding. The decree specifies that it will be only up to the government to set exact amount and rules for annual payment. The decree also instructs the Finance Ministry to present within a month its proposals over the allocation of funds.

State Minister for Reconciliation and Civic Equality, Paata Zakareishvili, said on January 27 that the government was considering allocation of total of GEL 4.5 million in 2014 for these four religious groups. He said that the fund would be allocated "proportionally" among the four religious groups, but details have yet to be elaborated.
The decree says that "precise amount of damage" inflicted to these religious groups by the Soviet regime "is unknown, hence compensation will be made symbolically."
As a result of legislative amendments passed by the previous Parliament in 2011, religious minority groups in Georgia were given a right to be registered as legal entities under public law. Several religious confessions are represented by several separate groups; for example there is more than one Muslim group registered as legal entity under public law.
The decree specifies that a recipient of state funding should be only one entity from eligible religious confessions. The decree sets three possible options for these groups: to carry out "reorganization" and get united under a single legal entity of public law; to create a joint "coordination council", which will be authorized to act on behalf of respective religious confession without the need to unite under a single legal entity; or to choose one of the legal entities, which will have a written permission from others to act on behalf of respective religious confession on matters related to receiving state funding.
Religious confessions will have to choose one of these options and notify the authorities before May 1, 2014.
Currently the Georgian Orthodox Church is the only religious group in the country with a line item in the state budget. 2014 state budget envisages GEL 25 million for the Georgian Orthodox Church.