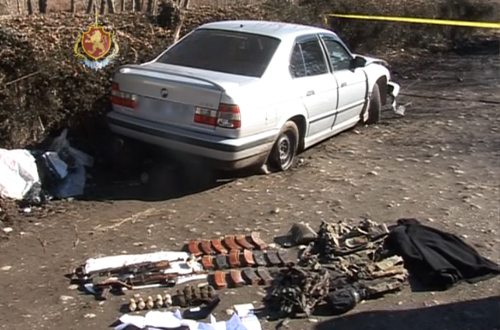 A screengrab from video footage released by the Georgian Interior Ministry showing a car in which, police said, weapons were found.
Police found weapons on February 7 in a car, abandoned by suspects after police chase in a village close to the administrative boundary line of breakaway Abkhazia, the Georgian Interior Ministry said.
It said that the police in the village of Tkaia of Zugdidi municipality spotted a "suspicious car" and ordered to pull over, but driver refused to comply. The Interior Ministry said that the car crashed while speeding away from the police pursuit.
Two men in the car, whose identities have been established, fled the scene, according to the police.
Some locals told Georgian television stations in the village of Tkaia that one of the suspects has a house in the village, but resides mostly in the Gali district of breakaway Abkhazia.
Police said that two Kalashnikov assault rifles, under-barrel grenade launcher and its five grenades; a hand-grenade and large amounts of ammunition was found in the car, abandoned by the two suspects.