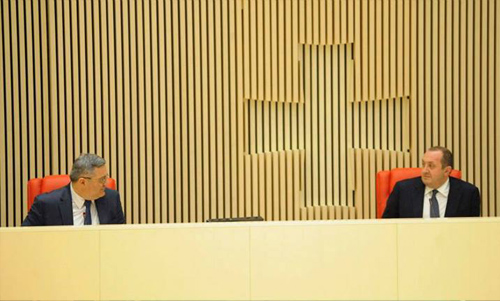 Parliament speaker Davit Usupashvili (left) told President Margvelashvili (right) during the latter's first state of the nation address in the legislative body on February 22 to be "moral authority" and to be a unifying force, standing above partisan politics. Photo: president's press office
President Giorgi Margvelashvili delivered his first annual state of the nation address to the Parliament on February 21 followed by lengthy debates during which UNM opposition lawmakers criticized the speech for "lacking specifics" and ruling coalition MPs praised it for "making right accents."
Margvelashvili started his 47-minute long address by speaking about developments in Ukraine and asking the chamber to observe a minute of silence to honor dozens of people killed in clashes in Kiev.
As an introduction to his address, Margvelashvili spoke for about five minutes on president's role under the new constitution, which went into force upon his inauguration in November and which significantly cut presidential powers. Margvelashvili said that this new role of president, who is no longer head of the executive government, has largely shaped his address.
Margvelashvili indicated that the existing constitutional model does not require a major reshape as it provides for proper system of checks and balances, but also said that some "corrections" might be required to have "completely balanced constitution." A constitutional commission, which has yet to be convened, was established in December to draft constitutional amendments before September, 2014.
"We want to stress that existing model provides quite enough ground for establishing legal system of checks and balances; we want to stress that none of the branches of the government in this model is burdened with such powers that would downgrade other branches," Margvelashvili said. He also added that the constitutional should not be subject of frequent amendments.
He used his address to announce June 15 as the date of local elections. Margvelashvili said that free and fair local elections should mark the culmination of "consolidation of democratic" process in the country, which, he said, was launched in 2012, when the Georgian Dream coalition came into power.
'Human-Centered Govt'
Margvelashvili said since Georgian Dream coalition came to power, "human, an individual has become the central issue and central value of the government."
"Our goal is to build the Georgian state for the Georgian citizens. I see such Georgia as the country based on traditions of freedom, unity through diversity, tolerance, possibilities, work, accord and solidarity," he said, adding that by traditions he also means "aspiration towards progress and renewal."
"We are future-oriented and we also learn from others. But the building of the Georgian state should mostly be based on self-identity, which is clearly preserved in our traditions and individually in Georgian citizens. Georgians with their individual self-identity are Europeans and part of the Western civilization, but regrettably up until now we had no opportunity to create the Georgian state based on this individuality, and to translate the Georgian traditions into context of statehood and state institutions. I deeply believe that this is our challenge and we are now on this path and there will be no changes on this path," he said.
He described 2013 as "successful" year in terms of "depoliticization" of state institutions; substantial improvements in the penitentiary; as well as in terms of freedom of media and expression and also noted reform of the high council of justice. He also said that in terms of human rights one can never say that "benchmark is already achieved."
'Diversity'
Margvelashvili said that throughout history Georgia was the most successful when it was built upon "unity through diversity."
He then touched upon "important role" of the Georgian Orthodox Church and paid respect personally to Patriarch Ilia II saying that he admires the Patriarch's contribution to "Georgian tradition of tolerance."
Alongside foreign diplomats and other invited guests, President's address was also attended by representatives from various religious groups, including the Georgian Orthodox Church, but Patriarch Ilia II was not present; "tight schedule" was cited as the reason behind his failure to arrive in Kutaisi.
Margvelashvili also spoke about importance of "diversity of political opinions" and mentioned opposition and the issue of legal proceedings against the former government members.
"We are building and should continue building the society with diverse political views, where political parties are competing for attracting support," he said.
The President said that he is aware of "serious criticism" voiced by the opposition. In this context he addressed UNM's criticism over what the latter calls applying of selective justice and politically motivated prosecutions against former government members. Margvelashvili said that the government managed to strike a balance between on the one hand "demands from within the country" – apparently referring to what the government calls "restoration of justice", and on the other hand "pressure from the outside" – referring to warnings from Georgia's Western partners to avoid selective justice.
He said that the authorities kept this balance without "leaning towards either political prosecutions or leniency on political grounds."
"Legal processes that have been carried out in Georgia were and are basis for building the legal state," Margvelashvili said.
'Non-Recognition, Not Isolation'
Speaking on breakaway regions of Abkhazia and South Ossetia, Margvelashvili said that Tbilisi's policy of "non-recognition does not mean isolation".
"We should give an opportunity to our compatriots living in Abkhazia and Tskhinvali region to receive direct benefits from Georgia's European course. In parallel with restoration of relations, the population of the occupied territories, with the support of the Georgian authorities, should be engaged in joint economic, trade, educational and humanitarian projects with the European Union envisaged by the Georgian state strategy on engagement through cooperation," he said.
"We offer you a European country and life in a free, developed, democratic and peaceful state, which will be a guarantor of welfare of all of its citizens, guarantor of preserving their ethnic, religious and cultural identity," Margvelashvili said.
"I also want to address the leaderships of de facto regimes in the occupied territories – do not go against the vital interests of your own people, do not try to create new barriers among those peoples, who are linked by many centuries of united statehood."
"Our unity has been broken by multiple mistakes and by meddling of external forces that cost us the blood of our own people. Today, self-identity of Abkhazians and Ossetians is under danger; living together and our unity represent the firmest guarantee to protect it. So if you care about the future of Abkhazians, Ossetians and all those people living in these territories, do not keep them in isolation," Margvelashvili said addressing authorities in breakaway regions.
Relations with Russia
He said that politically and economically stable and united Georgia "is a guarantee for cooperation in the region… and a prerequisite for good neighborly relations."
"This is well understood by our neighbors and it is what we, together with our partners, try to prove to the leadership of the Russian Federation," the President said. "We are trying to show that not a single problem is being solved in Russia by creating problems to Georgia."
He said that Georgia's European and Euro-Atlantic choice "does not mean allying against someone."
"We are building a peaceful and democratic country whose goal is good neighborly relations, but in the condition when our sovereignty and territorial integrity is protected," Margvelashvili said.
He said that while pursuing this "rational approach" Tbilisi has also "changed an aggressive rhetoric of previous government, which was yielding no result."
The President said that Georgia's pro-Western course is not built on "confrontation with someone."
Margvelashvili said that bilateral dialogue launched between Georgian PM's special envoy and Russian deputy foreign minister resulted into a "certain progress" in trade issues.
"However, creating of barbed wires and expansion of border zone by 11 kilometers have seriously damaged this process," he said.
"In parallel with integration in Europe and Euro-Atlantic structure, we reiterate our readiness to deepen, together with our partners, a dialogue with Russia," he said and added that in this process principle of full respect for territorial integrity and sovereignty should be taken into consideration.
"We intend to solve these extremely difficult problems based on these principles. We know that this is a very difficult path, but this is the only way," he said.
European, NATO Aspiration
Margvelashvili said that the Europe is "our family, our values and our future and at the same time it is the best guarantee for preserving our self-identity."
"As head of the state I have been declaring and reaffirm it again with full confidence that the European choice will never be revised in Georgia."
"Society and political spectrum in Georgia will never confront each other over this issue and not because this [European integration] is a choice of the political spectrum, but because this choice was also made by our ancestors and we are firmly on this path."

On NATO the President said that the country made progress and at the Alliance's summit in Wales in September the Georgian society and the authorities "are waiting for taking efficient steps on the direction of NATO integration."
"Our European and Euro-Atlantic integration is not directed against any state. Our goal is cooperation, not confrontation. We will never endanger security of our friends and partners, but we will always be ready to defend our common security and welfare," he said.
Margvelashvili also said that Georgia's cooperation and partnership should further deepen with the United States in 2014; he said that possibilities provided in the bilateral strategic partnership treaty are "not yet exhausted."
'Disrespect from Govt'
Much of the rebuttal speeches by UNM lawmakers during the debates centered on assertions that President Margvelashvili, who under the constitution already has limited powers, was even further sidelined from political processes by the government; some opposition lawmakers were criticizing him of not using fully even those powers which the president has.
In this context several UNM lawmakers stressed in their speeches that absence of cabinet members in the Parliament chamber during the presidential address was demonstrating government's "blatant disrespect" towards the presidency.
"The fact that you are not head of the executive government does not mean that the government should not be respecting the directly elected president," UNM MP Giorgi Gabashvili told the President.

Another issue, which was raised by UNM lawmakers during the debates as demonstration of Margvelashvili being sidelined was government's decision to create new body, similar to the National Security Council (NSC); this latter is chaired by the President, but the new one with similar functions is chaired by the Prime Minister.
UNM parliamentary minority leader, Davit Bakradze, who was Margvelashvili's main competitor in the 2013 presidential elections, told the President that he sincerely wants him to be "the strong and dignified president." He also called on him to "defend state institutions" and said that NSC has been "downgraded to zero" after its parallel body was created under the government.
Responding on this issue in his closing remarks, President Margvelashvili said that government needed NSC-type of body in order to be able to respond urgently to crisis situations. He said that as far as the president is no longer head of the executive body, it is more logical if the PM chairs the new council for prompt decision-making in the crisis situations. Margvelashvili said that NSC, chaired by him, remains to provide advice on strategic issues.
Opposition lawmakers also said that there were no specific actions outlined in the president's speech about how the authorities are planning to tackle various problems.
"I would have applauded wholeheartedly to your address if it were the address of let's say Lithuanian president or a Swedish prime minister, making address in Georgia and speaking about values and what kind of country Georgia should be; but you are the President of Georgia, who makes the address in the Parliament of your country and unfortunately I did not hear any specifics about what you have done to solve the problems and what are you going to do to solve the problems about which you were speaking a lot, and rightly so, during the election campaign," MP Bakradze said.
UNM MP Giorgi Gabashvili criticized Margvelashvili for "not mentioning even with a single word Russia's criminal role" in developments in Ukraine and another UNM lawmaker, Sergo Ratiani accused GD of pursuing double-faced policies both in foreign and domestic affairs.
"On the one hand you declare that you want the European integration and on the other hand you are cooperating with Russia, which is the major adversary of this integration," MP Ratiani said.
He also said that GD's policies remind him of double-headed eagle on the Russian national emblem. "One head of your policies is looking to the West and another one to Russia. Being pro-Russian does not necessarily mean having explicitly Russian orientation; being pro-Russian means this ambiguity and doubleness and that's what you have introduced [in Georgian politics]. Double-headed Russian eagle has entered into [the Georgian] politics together with you," MP Ratiani said.
'Moral Authority'
In his speech during the debates parliament speaker, Davit Usupashvili, said that institutionally, in terms of president's constitutional powers, as well as in terms of Margvelashvili's personality, the country now has the President "whom we are not ashamed of, whom we are not afraid of, whom we do not love and the president in whom we hope."
Usupashvili told the President that he should always try "to find something over which everyone will be united and only in that case the President will become source of hope."
"I think that key goal of this type of president… should be to ease the burden for Georgia's spiritual leader [Patriarch Ilia II], to ease the burden of being moral authority," Usupashvili said, adding that the President should be a unifying force, who will be above partisan politics and who will not act as a party in competition between the political parties.
In his closing remarks, President Margvelashvili thanked lawmakers for "interesting five hours" and for "some interesting criticism."
"It was an interesting experience for me," he said.