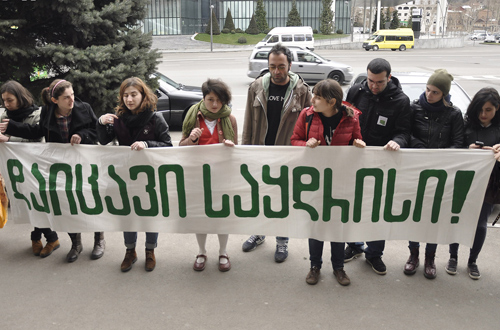 A small group of activists gathered outside the Ministry of Culture on March 14 to protest against giving permission to gold and copper mining company, RMG, to dig gold at Sakdrisi site. Activists hold a banner reading: "Protect Sakdrisi". Photo: InterPressNews
Georgian Ministry of Culture gave green light to gold and mining company, RMG, to extract gold from Sakdrisi-Kachagiani site, which some archeologists believe is the world's oldest gold mine.
While announcing the decision on March 14, Deputy Culture Minister, Alexander Margishvili, said that the claim about Sakdrisi being the world's oldest gold mine is a "myth."
"Presence of the world's oldest gold mine on Sakdrisi-Kachagiani site is not being substantiated. We cannot afford to create material problems to 3,000 families and leave them without livelihood based on myths," Margishvili said referring to RMG's claims that it would be forced to halt operation and leave its 3,000 employees without job if it is not allowed to launch an open-cast mine at Sakdrisi.
The announcement came just a day after PM Irakli Garibashvili said, echoing position of RMG, that it was not possible to prove that the site represents the world's oldest gold mine; when speaking on the issue during a meeting with a group of students on March 13, Garibashvili mainly focused on economic aspects saying that RMG invested USD 300 million in Georgia and halting of company's operations would leave 3,000 employees without job.
Sensing that PM's remarks signaled government's decision to give go-ahead to RMG, a group of archeologists and preservationists, who have been campaigning actively against open-cast mine on Sakdrisi-Kachagiani site, convened a press conference earlier on March 14 before the Ministry of Culture announced its decision.
"We, the organizations and individuals working in the sphere of culture disagree with Prime Minister's comments about the cultural heritage, in particular Sakdrisi-Kachagiani archeological site. It is a huge injustice to ignore results of nine-year old scientific research and broad public interest on the issue of Sakdrisi-Kachagiani," their statement reads.
A group of Georgian and German scientists started research of the site in 2004 with the funding from Germany's largest private science funder, Volkswagen Foundation. Artifacts found there, archeologists say, show that the mine dates back to the early third millennium BC and some samples even point to the second half of the fourth millennium BC, making Sakdrisi one of world's oldest known gold mines.
In a letter to the Georgian government President of the German Association of Archaeology wrote last year that in case of open-cast mine on Sakdrisi, "not just Georgia, also Europe, will lose one of its most important prehistoric mining sites forever."
Former first deputy minister of culture, Marine Mizandari, said destruction of the Sakdrisi archeological site would amount to "crime". Mizandari was sacked by PM Garibashvili upon Culture Minister Guram Odisharia's request on February 10 on the grounds of "violating official duties"; Mizandari said that she was dismissed mainly because of dispute over Sakdrisi. Two weeks after Mizandari was sacked, the head of the National Agency for Cultural Heritage Preservation was also replaced.
New head of the National Agency for Cultural Heritage Preservation, Nikoloz Antidze, said on March 14, that since his appointment on the post the agency reviewed once again all the available documents on Sakdrisi and concluded that the site does not represent the oldest gold mine.
Deputy Culture Minister, Alexander Margishvili, said that the permission to launch mining on Sakdrisi-Kachagiani site was issued on the condition that the process will be carried out under the "monitoring" of international experts.
Culture Minister, Guram Odisharia, was not present at the announcement of the decision as he is on a month-long leave.