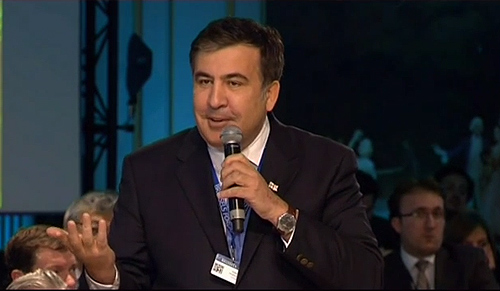 A screengrab from a
video
showing Georgia's former President Mikheil Saakashvili speaking at German Marshall Fund's annual Brussels Forum on March 21, 2014.
Prosecutor's office said it has summoned Georgia's former president Mikheil Saakashvili for questioning in connection to multiple cases, which are currently being investigated by prosecutors.
Prosecutor's office said Saakashvili, who is not currently in Georgia, should appear before investigators at 1pm local time on March 27.
Prosecutor's office listed ten cases, which are being investigated and over which it is seeking to question the former President.
The first in the list, released by the prosecutor's office, is the case related to halving prison term to four convicts in November, 2008 through presidential pardon who were serving sentences in connection to Sandro Girgvliani murder.
"As far as the investigations into whole range of other cases have entered into the final stage and there is a necessity to question Saakashvili, it is planned to interrogate as a witness the former President in connection to these other cases as well," the prosecutor's office said.
These other cases include investigation into raid on Tbilisi-based Imedi TV station in November, 2007 and consequent developments surrounding this TV channel, which was owned by tycoon Badri Patarkatsishvili, who died in February 2008; prosecutor's office listed among these developments "illegal appropriation" of the Imedi TV in 2008, "various illegal actions" carried out against late tycoon Badri Patarkatsishvili's family, which "ended up with a memorandum between the state and Patarkatsishvili family."
Prosecutors also want to question Saakashvili over alleged misspending of GEL 8.83 million from the Special State Protection Service (SSPS) funds in a period between 2009 and 2012.
Prosecutor's office said Saakashvili's interrogation is also planned in connection to "investigation carried out for the purpose of establishing circumstances surrounding death of PM Zurab Zhvania."
Prosecutor's office said on March 21 that Mikheil Dzadzamia, who was in charge of security detail of late PM Zurab Zhvania on the night when the latter was found dead nine years ago, was arrested and charged with neglect. Hours before that, prosecutor's office said that it arrested ex-chief forensic pathologist, who performed autopsy on late Prime Minister on February 3, 2005, and charged him with neglect of official duty.
When asked by Georgian journalists in Brussels on March 20 if he would arrive to Georgia in case of being summoned by prosecutors in connection to Zhvania's case, ex-President Saakashvili responded: "I am not participating in dirty intrigues." Saakashvili is now in Brussels at the German Marshall Fund's annual Brussels Forum.
Other cases over which the prosecutors seek to question Saakashvili include: "coercing rightful owners of Rustavi 2 TV and Mze TV to give up their shares" in 2004; the May 20, 2009 special operation in which one person was killed and two others, wanted in connection to so called Mukhrovani mutiny, wounded; privatization of the Agrarian University; "illegal privatization" of the state property through the October 31, 2012 presidential order by giving "preferential treatment" to Temur Alasania, ex-President's uncle; "giving state-owned real estate worth USD 3 million for a symbolic price of GEL 1" to a founder of Batumi-based TV 25 for the purpose of "controlling the TV channel during the election period"; and the case involving, what the prosecution says, was a concerted attempt by various branches of previous government to force Cartu Bank, founded by ex-PM Bidzina Ivanishvili, to bankruptcy in late 2011 and early 2012.