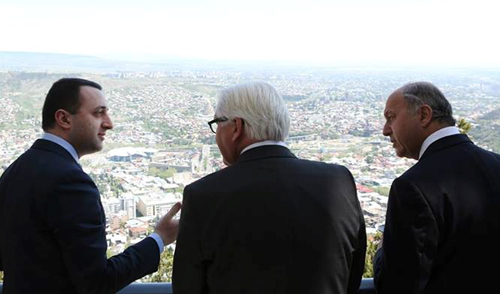 Georgian PM Irakli Garibashvili (left) speaks with German Foreign Minister Frank-Walter Steinmeier (center) and French Foreign Minister Laurent Fabius (right) while hosting them for an official dinner at a restaurant overlooking Tbilisi, April 24, 2014. Photo: Georgian PM's press office
French and German foreign ministers, Laurent Fabius and Frank-Walter Steinmeier, respectively, said after talks with their Georgian counterpart in Tbilisi on Thursday that their joint visit is an expression of support ahead of signing of the Association Agreement planned for June.
The French and German foreign ministers, who arrived in Tbilisi late last night after visiting Moldova, met President Giorgi Margvelashvili on Thursday morning and then held talks with Foreign Minister Maia Panjikidze, PM Irakli Garibashvili, parliament speaker Davit Usupashvili and UNM parliamentary minority leader Davit Bakradze; after Georgia, they will visit Tunisia, which will be the last leg of their three-nation joint trip.
Speaking at a joint news conference after talks with the Georgian counterpart, French Foreign Minister Laurent Fabius hailed Georgia's progress and reform efforts and said that signing of the Association Agreement with the EU will be positive for everyone and will serve as a strong mechanism for Georgia's modernization. He also welcomed Georgia's decision to contribute troops to the EU military mission in the Central African Republic. Fabius also said that French President François Hollande will visit Georgia soon. The French President plans trip to three South Caucasus countries in mid-May.
German Foreign Minister, Frank-Walter Steinmeier, also praised Georgia's reform efforts and progress and said that after signing of the Association Agreement in June all the efforts would be directed towards its implementation.
He said that the Association Agreement is not directed against anyone.
"We want cooperation with Russia," the German Foreign Minister said. "The Association Agreement is not directed against anyone; it is Georgia's free choice… We want cooperation, not confrontation."
Georgian Foreign Minister, Maia Panjikidze, said that the joint visit by her French and German counterparts "in this historic moment" for Georgia is a clear show of support.
She said that Georgia's NATO integration was also discussed during the meeting.
"My counterparts noted Georgia's contribution to the Euro-Atlantic security. We deeply believe that Georgia clearly shows progress required from an aspirant country, therefore, we expect that our progress will be appropriately assessed during NATO summit in Wales," Panjikidze said.
The German Foreign Minister said discussions will continue about what "concrete steps" should be made for further closer NATO-Georgia ties.
The Georgian officials have expressed publicly for number of times recently that granting NATO Membership Action Plan to Georgia at the NATO summit in Wales in September would be the best way forward, but there is no consensus about it within the Alliance.
Asked during the press conference what will make Georgia closer to NATO with particular reference to MAP, the German Foreign Minister said without mentioning MAP that the Alliance is deepening its relations with Georgia and appropriate mechanisms will be found to express this position.
Georgian PM's office said that Georgia's EU and NATO integration was discussed during a meeting of the Georgian PM Irakli Garibashvili with French and German foreign ministers. PM Garibashvili will visit Berlin and meet German Chancellor Angela Merkel in early June.