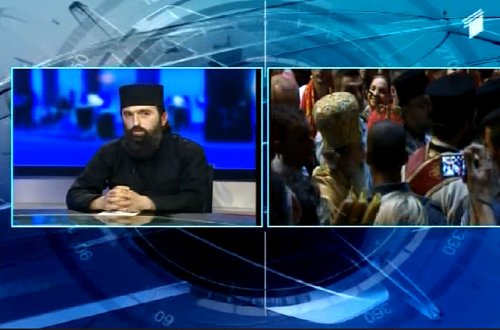 A screengrab from public TV's April 19 broadcast showing archpriest Davit Lasurashvili commenting on Holy Fire ceremony during which he also spoke about anti-discrimination bill, which was passed by the Parliament with its first reading on April 17.
A complaint has been filed with the Georgian Public Broadcaster (GPB) by several rights groups saying that remarks by an Orthodox priest on anti-discrimination bill and in particular on sexual minorities during a live broadcast last week violated GPB's code of conduct and law on broadcasting.
On April 19 the Georgian Public Broadcaster's First Channel carried for two and a half hours a live broadcast from Jerusalem of the Holy Fire ceremony. Two Orthodox clerics from the Tbilisi Sioni cathedral were invited by GPB as commentators. One of them, an archpriest Davit Lasurashvili spoke about anti-discrimination bill for about four minutes during the live broadcast, condemning "obscene relationship of same-sex people" and saying that this draft law should not be adopted as it would give "excess rights" to sexual minorities.
"The bill says that so called sexual minorities should be equal to national, religious and other types of minorities and that these so called sexual minorities, LGBT people, should have the right to be employed in such important institutions like schools and kindergartens. Of course this is completely unacceptable and the Church voices its position about it and now as we are waiting for holy fire we want to remind and request our authorities, lawmakers that adoption of this bill with its current wording should not happen; it would be an insult of those preaching and traditions which the Church and the nation have and it will definitely cause clashes within the nation," archpriest Lasurashvili said.
"We simply request the lawmakers to put this bill in line with the Georgian and Christian reality. If we start speaking about protection of rights of only minorities – and this [bill] is not about protection of rights, it is about giving them excess rights – it will be difficult for us to send our children to teachers or school principals, who live with this kind of life-style; there is no obscenity greater than that in the world – that is written in the Bible. I want to remind you once again that no other sin has been punished by the God to the extent as it was punished an obscene relationship of same-sex people – with sulfur and fire rain. So we once again ask our authorities not to adopt this legislation, otherwise of course confrontation will be inevitable within the society."
"It [the bill] has initiators and they are from outside of Georgia, who are actually imposing this legislation upon us. Leveling of our own faith and national traditions should not occur with principles of the European Union or other organizations," archpriest Lasurashvili added.
Adoption of the anti-discrimination law is one of those requirements, which Georgia has undertaken under its Visa Liberalisation Action Plan in order to be granted short-term visa-free regime by the EU.
The complaint has been filed by nine non-governmental organizations – Georgian Young Lawyers' Association; Identoba; Media Development Foundation; Human Rights Education and Monitoring Center; Women's Fund in Georgia; Women's Initiatives Supporting Group; Article 42 of the Constitution; Tolerance and Diversity Institute (TDI) and Union "Sapari".
They say that article 16 of the law on broadcasting was violated, which stipulates that GPB should ensure editorial independence free from state, political or religious influence. They also argue that number of provisions of GPB's own code of conduct was also violated, including the one which calls on the broadcaster not to air anything that may encourage hatred and intolerance towards various minority groups.
The rights groups and watchdog organizations have also called on the GPB to inform in advance invited commentators about its code of conduct and standards in order to prevent cases of this kind in the future, as well as to develop separate, detailed regulations to address situations of this kind during live broadcasts.