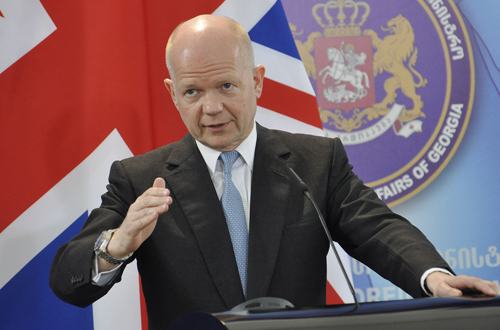 British Foreign Secretary William Hague at a news conference after meeting with his Georgian counterpart Maia Panjikidze in Tbilisi, May 8, 2014. Photo: InterPressNews
British Foreign Secretary William Hague said after talks with his Georgian counterpart on May 8 that his visit to Tbilisi aims at reaffirming UK's support "for Georgia's Euro-Atlantic trajectory, for its territorial integrity and for its democratic progress."
Speaking at a joint news conference with Georgian Foreign Minister Maia Panjikidze, the British Foreign Secretary said: "Our support for Georgia's Euro-Atlantic ambitions is very clear."
He arrived in Tbilisi late on Wednesday evening from Ukraine; he also visited Moldova earlier this week.
"Georgia is a valued partner to NATO and I am confident that the summit in Wales… will want to recognise the progress that Georgia is making and the work that we all do together," Hague said and expressed "strong appreciation" for Georgia's contribution to NATO-led operation in Afghanistan and Georgia's intention to send troops to the Central African Republic as part of the EU mission.
He also reiterated support to early signature of the Association Agreement between Georgia and the European Union, scheduled for June.
Foreign Minister Panjikidze said: "We strongly believe that Georgia has clearly shown progress required from a NATO aspirant country, therefore we have an expectation that progress made by us will be adequately assessed at the upcoming NATO summit in Wales [in early September]."
"At the Bucharest summit in 2008 NATO took a historic decision that Georgia will join NATO. We think that time has come to take concrete steps to implement this decision of the Alliance," Panjikidze said, adding that as the host nation of the upcoming NATO summit, support of the UK to Georgia's Euro-Atlantic integration "is of special importance."
"We believe that this summit will be the right time for deepening Georgia's Euro-Atlantic integration," the Georgian Foreign Minister said.
Responding on a question about Georgian Defense Minister Irakli Alasania's calls for deploying NATO defensive assets in Georgia, the British Foreign Secretary said: "We are in favor of course of building up further cooperation between Georgia and NATO. This is already a very important cooperation; I gave the example of Afghanistan and I am sure there are many ways on which we can build on this further in ways that add to the security of Georgia as well as strengthen international peace and security. So I don't have any, I can't give you any more detail in that; I believe that the NATO summit in Wales will be very important to recognize this progress and the United Kingdom as the host nation will be very clear it's important to recognise that progress and to build on it further and that is for the defense ministers to expand on precise defense arrangements."
On the same question, Georgian Foreign Minister Panjikidze said that the issue on which the Georgian Defense Minister spoke, involving calls to deploy Western defensive assets in Georgia, "was voiced as an idea."
"Discussions will continue over this issue, but nothing concrete has been offered and no decision is yet taken either," she said.
Earlier on Thursday morning Foreign Secretary Hague met opposition UNM representatives: MP Davit Bakradze, leader of the parliamentary minority group; MP Giorgi Kandelaki and UNM's foreign secretary Giga Bokeria. After meeting his Georgian counterpart, the British Foreign Secretary met President Giorgi Margvelashvili; he will also meet PM Irakli Garibashvili before wrapping up his visit on Thursday.
Hague said that although some of reforms "may be difficult or sensitive", these are "the right things to do."
"These are important not because the European Union or the West asks for these reforms, but because they are in the best interests of this country as well, part of Georgia's own desire to consolidate democracy, to strengthen institutions, to increase the competitiveness of the economy, to enhance respect for the rule of law and so we welcome these ambitions and of course debate over these measures is natural in a democracy… I welcome for example the consultative way the government's new human rights action plan was drawn up," Hague said.
He said that the UK and Georgia already collaborate on wide-range of issues from international security, defense, and fight against crime to human rights and culture.
"We provide a special defense advisor to the Georgian Ministry of Defense to help with reforms," Hague said. "I am delighted to confirm that we have agreed to put this relationship in a more formal basis through establishment of annual bilateral dialogue as a way to review our cooperation and to take it further forward."
He also said that regional security and situation in Ukraine was also discussed. The British Foreign Secretary said it is important for the May 25 presidential election in Ukraine to go ahead "without disruption and without interference from outside." He expressed hope that separatists in eastern Ukraine "heard the words" of President Putin about presidential elections of May 25 being a step forward and about not to go ahead with so called referendum in Donetsk Oblast.
Georgian Foreign Minister Panjikidze said that deep concern was expressed about crisis in Ukraine.
"Strong position of Britain over dramatic events in [Ukraine] is of special importance… We strongly believe that overcoming of this crisis is possible only through protection of Ukraine's independence, sovereignty and territorial integrity," Panjikidze said.
She said that the British Foreign Secretary was also informed in "details" about the Georgian government's efforts "to de-escalate" relations with Russia, as well as about "permanent provocative actions of the Russian occupying forces" along the administrative boundary line with breakaway South Ossetia involving installation of fences, "abductions" of local civilians, who are frequently detained for, what they call, "violation of South Ossetian border."