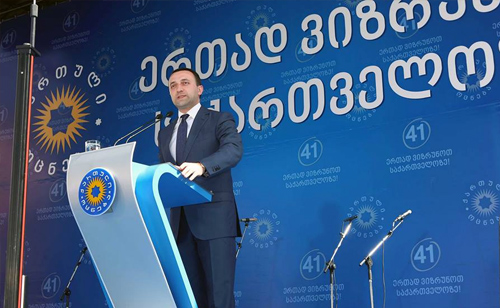 PM Irakli Garibashvili addresses supporters at GD's campaign rally in Ozurgeti, Guria region, on May 31, 2014. Photo: PM's office
Georgian Dream will win the June 15 local elections in every city and every municipality across the country and "will not allow victory of any other political force in any of the town or district," PM Irakli Garibashvili said on May 31.
Addressing an outdoor campaign rally of his Georgian Dream ruling coalition in the town of Ozurgeti of Guria region in western Georgia, Garibashvili said that victory of a political party other than GD in any municipality will be "damaging" for population of that particular district or town.
"We have yet another election to hold and to win," he told supporters in Ozurgeti. "We have won in the parliamentary elections [in 2012], we have won in the presidential election [in 2013] and now we should definitely win in the local elections together with you."
He said that upcoming elections are "very important" because for the first time voters in eleven towns will directly elect mayors and direct election of heads (gamgebeli) of 59 municipalities across the country will also be held. He said that GD government was "not afraid" to introduce direct elections and even set threshold for electing mayors and gamgebelis in the first round at 50%.
"I call on you to vote for our candidates, because we need a serious victory in these elections," Garibashvili said.
"We have no doubt that we will win in these elections, but we should win deservedly and in dignified way," he said.
"We should not allow victory of other political force in any single municipality of Georgia," the PM said.
"It will be damaging first and foremost for population of a municipality, which may elect a mayor or gamgebeli from a political force other than [Georgian Dream]. This is a matter of principle my friends."
"I want to remind you last year's case, which is an example – this notorious cohabitation [when UNM's Mikheil Saakashvili was the President and the government controlled by GD] has demonstrated to us how damaging this process might be for the state interests. It [cohabitation] will always be the cause of revelry, wrangling and sabotage. So we will not allow victory of any other political force in any self-governed city and municipality, because the Georgian Dream is a force, which has no alternative today and we will definitely win in every city and district," Garibashvili said.
In his speech the PM said also said that "every government needs to be criticized."
"We are the government which is not afraid of criticism and is always ready to listen to you, to your advices and criticism," he said. "Lots of problems have been accumulated, but the most important is that we have our vision how to solve these problems."
"For years the government was not taking care of people, doing nothing to give relief to the people, everything was done for the purpose of PR and they [the previous authorities] were building façade state," Garibashvili said. "We have completely changed this approach, but of course it is impossible to solve everything in one fell swoop; it will require time and consistent, round the clock work and we are doing it. We have managed to do a lot of things in a short period of time."