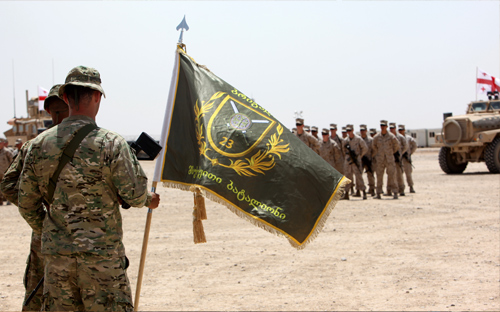 Georgian soldiers from the 23rd Georgian light infantry battalion stand with the unit battle colors during a transfer of authority ceremony at Camp Leatherneck, Helmand, Afghanistan, May 1, 2014. The 23rd battalion, which replaced the 31st infantry battalion, will be the last contingent of Georgian soldiers to serve in Helmand province alongside the U.S. Marines in the ISAF mission. U.S. Marine Corps Photo by Sgt. Frances Johnson via DVIDS
U.S. Defense Secretary Chuck Hagel thanked Georgia for pledging one battalion to post-2014 mission in Afghanistan.
"We thank Georgia for its pledge to maintain a battalion in Afghanistan post-2014 and to offer substantial resources to the Afghan national security forces," Hagel said on June 4 while speaking at a news conference after a two-day meeting of NATO defense ministers in Brussels.
On June 4 a meeting of NATO-Georgia Commission of defense ministers was held, followed by a meeting of defense ministers from ISAF contributing nations; a meeting of NATO-Ukraine Commission was held on June 3.
Georgia currently has 805 troops in Afghanistan, according to the International Security Assistance Force (ISAF), down from its pick when Georgia had about 1,600. Georgia lost 29 soldiers in Afghanistan.
According to the Georgian MoD, the Georgian troops are stationed mostly in the Helmand province, and also at the Camp Phoenix in Kabul and at the airbase in Kandahar.
The U.S. Defense Secretary said that achievements and contributions of NATO aspirant countries "deserve to be recognized" when foreign ministers from the Alliance member states meet later this month.
Responding a question on military support to Ukraine and Georgia, Hagel said: "There are many avenues and approaches that we take to help countries like Ukraine and Georgia and we'll continue to do that because in the end that's critically important as nations build their own capacities, their own abilities to defend themselves."
The United States announced on June 4 about intention to provide additional non-lethal assistance to Ukraine's military, involving body armor, night-vision goggles and communications equipment worth USD 5 million.