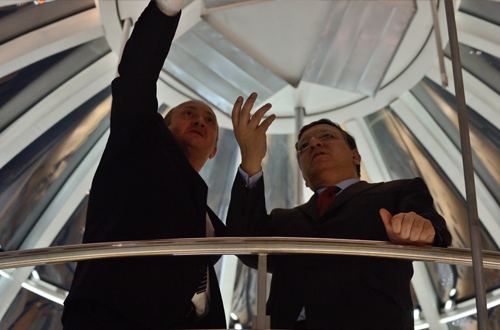 Georgian President Giorgi Margvelashvili and European Commission President Jose Manuel Barroso looking over Tbilisi views from a glass dome of presidential palace, June 12, 2014. Photo: European Commission Audiovisual Services
European Commission President, José Manuel Barroso, arrived in Georgia on Thursday after visiting Moldova, to reiterate support as Tbilisi, along with Chisinau, will sign the Association Agreement with the EU on June 27.
Speaking at a news conference after meeting Georgian President Giorgi Margvelashvili, Barroso said that the EU is ready to engage in discussions with Russia if the latter has concerns and wants to "clarify" some of the aspects of the Association Agreement, which also includes deep and comprehensive free trade treaty.
Barroso also stressed: "We have to be firm in the respect of sovereign right of any country to decide its own future."
"The European Union is imposing nothing on Georgia. Georgia has made a choice and we are here to support the choice of Georgia."
"We do not see these agreements as exclusive. Georgia can of course establish other agreements with other countries," the European Commission President said. "We do not oppose Georgia's relations with other countries. We are finalizing free trade agreements with many countries in the world that also have free trade agreements with other countries. We do not see trade as confrontation; we see trade as cooperation."
"I want to reiterate our willingness to pursue talks with Russia to discuss the concrete implementation of these agreements in case there are some concerns on the Russian side. Of course we have to respect the agreements what was already decided by the governments of these countries, but if there are some concerns, some technical issues that our Russian partners want to clarify, we are ready for it."
The Russian Foreign Ministry said on May 22 that it is Georgia's sovereign right to sign the Association Agreement with the EU, but it should also understand possible consequences, and pointed out in this context to the fact that Russia has recently become Georgia's third largest trading partner after Moscow lifted embargo on import of Georgian wines and other products.
Speaking at a joint news conference with the European Commission President, Georgian President Giorgi Margvelashvili said that signing of the Association Agreement will mark "the launch of new important stage in the history of our country."
"We are pursuing policy directed towards the membership of the European Union," Margvelashvili said, adding that "not only the governing team, but the entire Georgian society is united over this issue."
Barroso repeated what he said last month after meeting Georgian PM Irakli Garibashvili in Brussels, that Russian President Vladimir Putin told him and President of the European Council Herman Van Rompuy in January in Brussels that Russia "was not intending to have any kind of negative action on Georgia, when Georgia signs the [Association] Agreement with the EU."
"I hope that President Putin will stand by his own word," Barroso said.
'Avoid Excessive Polarization'
The European Commission President said that Georgia "belongs to the European family of nations" and the best way for Georgia to achieve approximation with the EU is to continue reforms.
He said that Georgia has been a "frontrunner" in EU's Eastern Partnership "thanks to the commitment of the successive governments."
"It has already undertaken many important reforms in recent years; more will be needed."
"It is the key that Georgia remains on the path of political pluralism, media freedom and independent judiciary," Barroso added.
On upcoming local elections on June 15, the European Commission President said: "I hope that these elections are going to take place in accordance with all the international standards."
"It is important there are no doubts about freedom and fairness of the elections, so I expect this to happen," Barroso said.
He said that he will have a chance to further discuss the upcoming elections when he meets PM Irakli Garibashvili, who is also a leader of the ruling GD coalition, and representatives of UNM opposition party on June 13.
Barroso also said that it's important to avoid "excessive polarization", which can be detrimental to the "good image that Georgia has in terms of being frontrunner in the Eastern Partnership."
Responding a question on the upcoming elections, President Margvelashvili said: "Georgia has to win in these elections; that's very important."
"Success that we are achieving with the EU and… our country's future strategy largely depends on a democratic process, which has started in Georgia and which I am sure has only positive outlook," President Margvelashvili said.
"I want to stress that the 2013 presidential election was assessed by our partners as election of European standards and I am sure that we will have positive assessments of the local elections as well. Political forces will win, but first and foremost the country will win. If there is any political force, which may try to have some kind of wrongdoing in these elections, I want to call on them to treat very carefully image that the entire society has created for Georgia. Georgia is a democracy where political forces have free and competitive environment and we should take care of this image. I am sure we will strengthen this image with these upcoming elections," Margvelashvili said.
The Georgian President awarded the European Commission President Barroso with the Order of the Golden Fleece "for firm support to Georgia's national interests on the international arena and for contribution to development of the EU-Georgia relations."
On June 13 Barroso will address EU's investment conference in Tbilisi; the conference, which was also held in Chisinau, aims at discussing business opportunities in Georgia in the context of country's economic integration with the EU through deep and comprehensive free trade area.