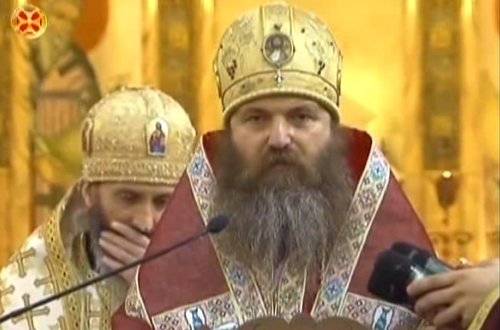 A screengrab from the Georgian patriarchate's television channel showing bishop Jakob delivering sermon in the Holy Trinity Cathedral in Tbilisi on July 6, 2014.
A high-ranking cleric from the Georgian Orthodox Church has violated law when he weighed into election campaign with his sermon on Sunday, several election monitoring and human rights watchdog groups said on July 8 and called on the Central Election Commission to look into the case.
In his sermon in the Holy Trinity Cathedral in Tbilisi, bishop Jakob slammed UNM opposition party and called on the voters to go to second round of local elections on July 12 to "reject" those who, as he put it, "are not repenting for what they have done to the country" when they were in power.
Bishop Jakob is one of the three deputies of head of the Georgian Orthodox Church, Patriarch Ilia II; he usually delivers sermons in the Holy Trinity Cathedral when the Patriarch is absent.
The Georgian election code bans religious organizations from election campaign. According to the election code, violation of rules of campaigning carries financial penalty in an amount of GEL 2,000 (about USD 1,130).
Patriarch's deputies, according to the constitutional agreement between the Georgian Orthodox Church and the state, represent the Church without requiring any additional authorization.
Four election monitoring and human rights groups said in their joint statement that the legislative norm prohibiting religious organizations from election campaigning aims at "protecting electoral process from the influence of religious figures." They said that probability of such an influence is high in Georgia taking into consideration "high public confidence and authority enjoyed by religious organizations."
"Independence of election process is an important precondition for the development of democratic and secular state," reads the statement by International Society for Fair Elections and Democracy; Georgian Young Lawyers Association; Transparency International Georgia and Human Rights Education and Monitoring Center.
These groups have called on the Central Election Commission to study and react to this case of Bishop Jakob's participation in the pre-election campaigning "in violation of the election legislation."
The four organizations have called on the religious groups "to refrain from any public action containing the signs of pre-election campaigning."