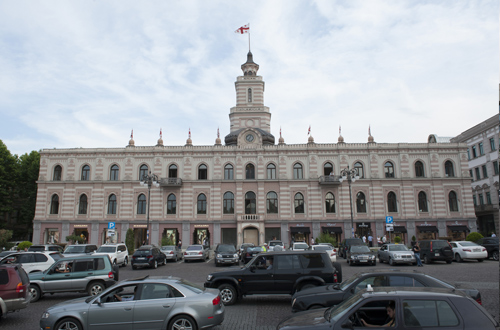 GD ruling coalition hold more than two-thirds of majority in 50-seat Tbilisi City Council. Photo: Eana Korbezashvili/Civil.ge
At its inaugural session on July 14, Tbilisi City Council (Sakrebulo) elected GD member Giorgi Alibegashvili, a 55-year-old Georgian literature professor, as its chairman.
He was elected with 37 votes to 8; councillors from the opposition United National Movement (UNM) and the only independent member of Sakrebulo, Aleko Elisashvili, voted against.
GD ruling coalition holds 37 seats in 50-member new Sakrebulo of Tbilisi, elected in the June 15 local elections.
Newly elected chairman of Sakrebulo, Giorgi Alibegashvili, has been head of the philology department at the Georgian Patriarchate's Georgian University of St Andrew the First-Called since 2009.
"One of the first tasks of Sakrebulo will be to consolidate the society and to win public sympathy for Sakrebulo. There are a lot of challenges. There are no big and small problems; all the problems have to be tackled simultaneously," Alibegashvili said and expressed readiness to cooperate with opposition members of the city council.
A long-time Tbilisi Sakrebulo member Giorgi Tkemaladze of GD coalition was elected as first deputy of Sakrebulo chairman; he is son of GD MP Zurab Tkemaladze.
In Tbilisi's 50-member Sakrebulo half of the seats are distributed through party-list, proportional representation and remaining 25 seats are allocated to winners in capital city's 25 single-mandate constituencies.
Under the party-list system, ruling GD coalition won 13 seats and its candidates won in 24 single-mandate constituencies, as a result the ruling coalition has total of 37 members in Tbilisi Sakrebulo.
An independent candidate, a former long-time journalist and Tbilisi preservationist activist, Aleko Elisashvili, won one majoritarian seat in one of Saburtalo district's single-mandate constituencies.
UNM opposition party has 7 members in the Tbilisi Sakrebulo; Nino Burjanadze-led coalition, United Opposition – 3 seats, and the Alliance of Patriots of Georgia – 2 seats.
Other 15 parties and blocs, which ran for Tbilisi Sakrebulo's party-list vote, failed to clear a 4% threshold in the June 15 local elections.
Inaugural sessions of newly elected Sakrebulos were also held in 63 constituencies; remaining 8 newly elected Sakrebulos will hold their inaugural sessions on August 2.
Out of 71 Sakrebulos, GD holds more than half of the seats in 66 Sakrebulos. In Sakrebulos of Khoni and Abasha GD falls two seats short of clear majority; in Chkhorotsku the ruling coalition falls three seats short of clear majority; in Kvareli Sakrebulo, GD has half of the seats; in 15-member Sakrebulo of town of Ozurgeti, GD has only 5 seats, independent candidates hold four seats there and Alliance of Patriots – 2 seats; UNM, Burjanadze's coalition, Labor Party and Georgia's way have one seat each.