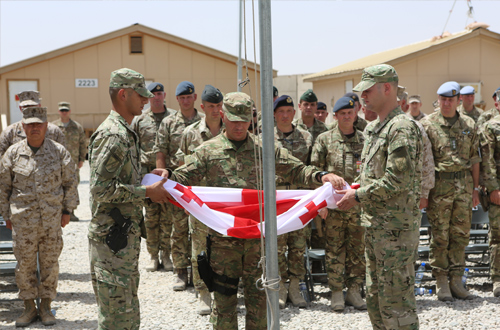 Georgian soldiers participate in the Georgian flag lowering ceremony aboard Camp Leatherneck, Helmand province, Afghanistan, July 15, 2014. U.S. Marine Corps photo by Sgt. James D. Pauly via DVIDS
Georgian troops ended their four-year deployment in Afghanistan's Helmand province as part of the ISAF mission with a flag-lowering ceremony at the Camp Leatherneck on July 15.
The 23rd light infantry battalion, which was deployed in Helmand four months ago, was the last contingent of Georgian soldiers to have served in the Regional Command Southwest in this southern Afghan province. About fifty Georgian troops continue to serve in Kabul and a special mountain battalion is deployed in Kandahar. Georgia has pledged one battalion to post-2014 mission in Afghanistan.
Georgia's first contribution to the Afghan operation came in 2004 when 50 soldiers were briefly deployed in the country under the German command as part of ensuring security during the presidential elections.
In November, 2009 Georgia deployed about 170 soldiers in Kabul under the French command and in 2010 Georgia increased presence in Afghanistan by sending an infantry battalion in the Helmand province. Georgia doubled its contribution by sending additional battalion to Helmand in autumn, 2012. As of June, 2014 there were 805 Georgian troops in Afghanistan, down from its pick when Georgia had about 1,600 soldiers, making the country the largest non-NATO contributor to the ISAF mission.
Death toll of the Georgian soldiers in the ISAF mission is 29 – all killed in action in the Helmand province.
435 Georgian soldiers have been wounded in action, 35 of whom are amputees, according to the ISAF.
This year marked the 13th rotation and final deployment for the Georgian troops with Regional Command Southwest in the Helmand province. Since their mission first began, more than 11,000 Georgian soldiers have deployed to the country, according to ISAF.
"Although today's ceremony marks the end of your participation with Regional Command Southwest, it doesn't end your commitment to the mission here in Afghanistan," Brig. Gen. Daniel D. Yoo, commander of the Regional Command Southwest, said at the ceremony at the Camp Leatherneck on July 15. "You have been a very good partner, and your performance has reflected professionalism and commitment. I can't thank you all enough. As you get ready to go home, you can be proud of your accomplishments."