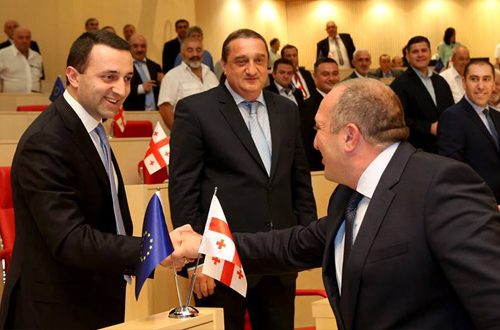 PM Irakli Garibashvili (left) and President Giorgi Margvelashvili (right) shake hands in the Parliament chamber in Kutaisi during ratification of the Association Agreement with the EU on July 18, 2014; GD parliamentary majority leader MP Davit Saganelidze seen in the center. Photo: government's press office
President Giorgi Margvelashvili and Prime Minister Irakli Garibashvili took a swipe at each other on August 15 in what appears to be yet another sign of uneasy ties between the two.
After Garibashvili said on August 15 that it took longer than needed for the President to declassify portion of spending records of former president Mikheil Saakashvili, Margvelashvili responded that he can deliberate on sensitive matters as long as the law allows him and no one, who has no relevant authority, can speed him up. President Margvelashvili declassified documents first requested by the Prosecutor's Office on July 12 after the latter made the request public on August 8.
Margvelashvili also called for respect of procedures, saying that disrespect of set rules and procedures was one of the reasons why he "disliked" the previous authorities.
Asked why there was a dispute between the President and Prosecutor's Office, PM Garibashvili told journalists in Tbilisi on August 15: "I do not know. I think it will be better if you ask President Margvelashvili why it took one month to declassify it – it's a very simple procedure."
"I think it's a simple procedure and it should not have taken so much time," Garibashvili added.
President Margvelashvili responded: "No one can tell the Georgian President whether he should think five minutes or more before legally set deadline expires on an issue, which falls under his [presidential] competence. One should have appropriate authority in order to speed up anybody's decision."
"That's precisely what I disliked about the previous authorities – they did not know where the law ends, where obligations begin and where separation of powers ends," Margvelashvili told journalists in Bakuriani, where, according to his press office, the President, who is a former university rector, participated in a discussion with a group of students on Friedrich Nietzsche's "Beyond Good and Evil".
"The President of Georgia and its administration decided this issue when they deemed it was right," Margvelashvili said.
Margvelashvili also stressed that while deliberating on declassifying portion of ex-president's spending records, he and his advisers "paid very careful attention on this issue", because it is "not only an internal political matter for our country."
"I hope that today it is clear for everyone that this issue has been linked to Georgia's foreign policy," Margvelashvili said, referring to bringing of criminal charges against Saakashvili.
Speculation about disagreements between the President and ruling Georgian Dream coalition first emerged late last year and in early 2014, which were further fueled after ex-PM Bidzina Ivanishvili publicly criticized Margvelashvili in March.
In the lead up to signing of the Association Agreement with the EU in June, the President and the PM were at odds over which one of them should have signed the agreement. In early August GD parliamentary majority voted down two candidates for Supreme Court, nominated by President, and PM snubbed a session of the National Security Council, chaired by the President.