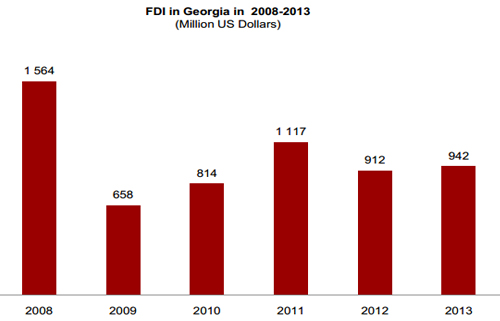 FDI figures in million US dollars between 2008 and 2012. Source: Geostat
Foreign direct investment in Georgia stood at USD 941.9 million in 2013, a 3.3% year-on-year increase, according to final data released by the state statistics office, Geostat, on August 15.
The figure was revised upwards from Geostat's preliminary FDI data, released in March, which stood at USD 914 million.
According to final data, FDI reached USD 252.3 million in the first quarter of 2013, declining to USD 207.9 million in the second quarter, going up to USD 254.8 million in the third quarter, and declining to USD 226.9 million in the final three months of last year.
Energy sector received the largest share of FDI in 2013 – USD 244.7 million, up by 36.4% compared to 2012.
The energy sector was followed by financial sector with USD 166.4 million, 2.3% y/y increase; transport and communication – USD 140.1 million, which was almost a two-fold increase over the previous year; manufacturing – USD 99.8 million, 40.5% y/y decline; construction – USD 49.8 million, 19.1% y/y increase; mining – USD 43.7 million, up from USD 4.9 million in 2012; real estate – USD 42.3 million, 19.8% y/y decline; agriculture – USD 11.9 million, 26% y/y decline; healthcare – USD 700,000, down from USD 17.6 million in 2012.
Most of the FDI in 2013 came from companies registered in the Netherlands and Luxembourg – USD 153.2 million and USD 142.5 million, respectively, followed by China – USD 89.9 million; Azerbaijan – USD 81.9 million; United Arab Emirates – USD 62 million; UK – USD 55.2 million; the U.S. – USD 44.8 million; the Czech Republic – USD 43.6 million; Malta – USD 43.2 million.
USD 54.7 million in Geostat's FDI data is attributed to "international organizations".
2014 first quarter FDI stood at USD 260 million, according to the preliminary data; second quarter FDI figures are expected to be released in early September.