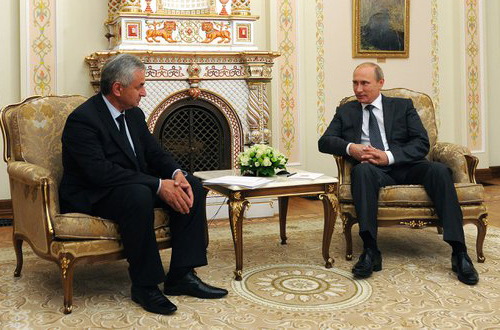 Russia's President Vladimir Putin (right) meets new leader of breakaway Abkhazia Raul Khajimba (left) at the Novo-Ogaryovo state residence outside Moscow on August 27, 2014. Photo: Kremlin
Russia's President Vladimir Putin met new Abkhaz leader Raul Khajimba at the Novo-Ogaryovo state residence outside Moscow on August 27 and discussed signing of new comprehensive cooperation treaty between Moscow and Sokhumi by the end of this year to "qualitatively increase integration" between Russia and Abkhazia, the Kremlin said.
During the meeting, which came three days after the presidential election in the breakaway Abkhazia, Putin and Khajimba also "discussed Russia's readiness to increase financial aid to Abkhazia and to assist in attracting major Russian investors to the republic," according to the Kremlin.
"We have known each other for a very long time and I want to wish you success," Putin told Khajimba in the beginning of the meeting.
"I know that you are a proponent of expanding the relations between Abkhazia and Russia and deepening integration processes: this concerns defence, security, law enforcement activities and fighting crime, as well as the economy and the social sector," Putin continued. "I fully agree with you that we must do everything we can to achieve the implementation of new standards in medical care, pension services, and resolving many other vital, important issues and challenges whose resolution has long been awaited by the people of Abkhazia."
Khajimba said that these issues related to defense, borders, social and economic development are important for Abkhazia and fall within Russia's interests as well.
"We are ready to continue our dialogue and talk about these topics. I think that they will develop positively," Khajimba said.