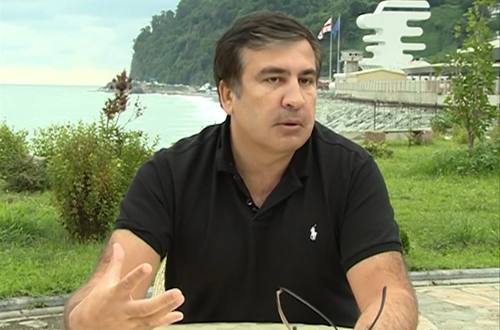 A screengrab from a video footage showing ex-president Mikheil Saakashvili meeting representatives of his UNM party in Turkey at the border with Georgia on August 30, 2014. Sarpi border-crossing point between Turkey and Georgia seen in the background.
Procedures are underway seeking from Interpol to issue so called 'red notice' for Georgia's ex-president Mikheil Saakashvili and to put him on its wanted list, a spokesperson for the Georgian prosecutor's office said on Saturday.

Saakashvili is wanted in Georgia for charges of misspending and exceeding official authorities in several separate cases, which he denies as politically motivated. Court in Tbilisi ordered his pre-trial detention in absentia on August 2.
Interpol uses red notices to notify its member states that an arrest warrant has been issued for an individual with a view to his or her arrest and extradition. But Interpol cannot demand individual nations make an arrest based on issued red notices.
Meanwhile on Saturday, the former president met some of the members and lawmakers from opposition UNM party, which he chairs, in Turkey, close to Sarpi border-crossing point with Georgia and called for launching of "new activities" based on "multi-party, common Georgian interests" to prevent country's "backsliding". Citing long queues at the Sarpi border-crossing point, he criticized the Georgian authorities for mismanagement and failure to build on the progress achieved under his presidency.
"I am not driven by any political ambition whatsoever," he said. "This is time when we should stand above any party logic and personal interests – I am not attracted in Georgia by any political post, I have already held them. Absolute majority of those working for the state apparatus are honest people and these people should take a decision – they either tolerate this deterioration or they should quit and do their own business and voice their political stance. The same goes to those people in the government, who may not like sidetracking of the country from its main course – they should separate themselves [from the government] and voice their positions in nearest weeks and months."
"We should manage to create new political groups, new initiatives, new activities – these should not be based on a single party; these should be some kind of joint actions based on multi-party, common Georgian interests in order not to allow backsliding," said Saakashvili during the meeting, which, among others, was also attended by UNM MPs Giorgi Vashadze, Giorgi Gabashvili, Sergo Ratiani, Zurab Melikishvili, Akaki Minashvili, Giorgi Gviniashvili.