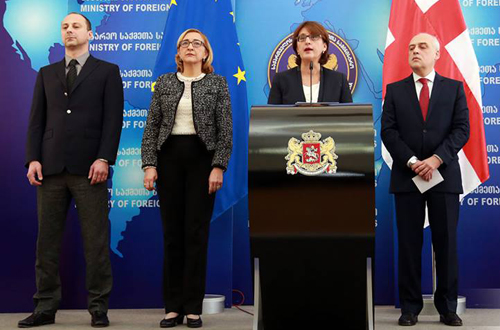 Maia Panjikidze announces about her resignation as foreign minister; deputy foreign ministers Davit Zalkaliani (right), Tamar Beruchashvili (second from left) and Vladimer Gurgenidze have also resigned, November 5, 2014.
Foreign Minister, Maia Panjikidze, has filed for her resignation on November 5 a day after PM Irakli Garibashvili sacked Defense Minister Irakli Alasania, which was then also followed by stepping down of State Minister for European and Euro-Atlantic Integration Alexi Petriashvili.
Panjikidze, unlike Petriashvili, is not a member of Alasania's Free Democrats party, but her resignation did not come as a surprise; she is sister of Alasania's wife.

It remains to be seen if Justice Minister Tea Tsulukiani, who is affiliated with the Free Democrats party, will follow suit.
Panjikidze said in a statement for the press in the Foreign Ministry on Wednesday noon that she is also quitting Georgian Dream-Democratic Georgia, party founded by ex-PM Bidzina Ivanishvili and now chaired by PM Garibashvili.
First Deputy Foreign Minister, Davit Zalkaliani, who was also Georgia's chief negotiator in the Geneva talks, has also announced about resignation; Zalkaliani is a member of Alasania's Free Democrats party. Three other deputies of foreign minister – Tamar Beruchashvili; Davit Jalagania and Vladimer Gurgenidze – are also stepping down, Panjikidze said.
"Over the past two years in our team has achieved maximum of what was possible in the foreign policy. We have been standing firmly in defense of the European and Euro-Atlantic values," Panjikidze said and then listed among achievements "putting to rest skepticism of our allies and partners towards our European and Euro-Atlantic course since new government came into power."
"As we see that not only our future activities, but also achievements made by us are endangered we decided to [resign]," Panjikidze said. "Country's European choice was made by the Georgian people… and my team, which was able and obliged to fulfill that goal, cannot betray this choice of the Georgian people and we could not but demonstrate with this step [of resignation] those threats which the country is facing."
Before being sacked from Defense Minister's post on November 4, Irakli Alasania said that recent developments involving arrests of MoD and general staff officials, as well as newly filed charges against army medical officers were "obviously politically" motivated and an "attack on Georgia's Euro-Atlantic choice."
Davit Zalkaliani, who stepped down from the post the first deputy foreign minister, and who is a member of the Free Democrats party, said: "Regrettably questions have emerged about our country's foreign policy course."
PM Irakli Garibashvili said on November 5 that resignation of Panjikidze and Petriashvili was not a surprise for him. He said that he will name new foreign minister and state minister for European and Euro-Atlantic integration in coming days.
"I regret that Maia Panjikidze expressed solidarity towards her family member [referring to Alasania] instead of her country," PM Garibashvili said.