Putin calls for talks on resumption of railway link via Abkhazia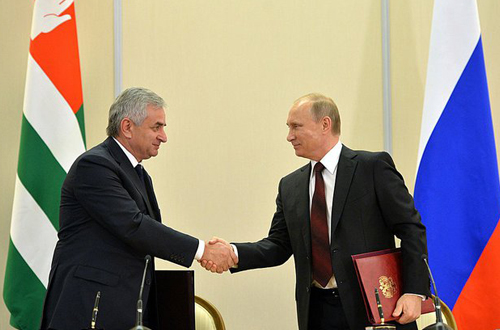 Abkhaz leader Raul Khajimba (left) and Russia's President Vladimir Putin shake hands after signing treaty on alliance and strategic partnership in Sochi on November 24, 2014. Photo: Kremlin
Russia has pledged to allocate at least 9.2 billion rubles (about USD 205.2 million) in aid to breakaway Abkhazia in 2015 after Moscow and Sokhumi signed new treaty on "alliance and strategic partnership" on November 24.
The treaty, which was signed by President Vladimir Putin and Abkhaz leader Raul Khajimba in Sochi, envisages collective defense; setting up joint group of forces; carrying out "coordinated" foreign policy and creation of "common social and economic space". Under the treaty Abkhazia, which politically, economically and militarily already relies heavily on Moscow, will also get pay raise for its army and police forces, employees of state agencies, as well as increase of pensions to the level existing in Russia's southern regions.
Speaking after the signing ceremony, President Putin said that targets, set by the treaty, are backed by "serious funding."

"Allocation of 5 billion rubles [about USD 111.5 million] is envisaged for Abkhazia in 2015 for the purpose of implementing goals of the treaty," Putin said.
On top of that funding, Putin said, Russia also plans new "investment program" for a period of 2015-2017 for Abkhazia with an annual funding of over 4 billion rubles (about USD 89.2 million). The plan of this investment program, he said, will be discussed at the Abkhaz-Russian inter-governmental commission meeting on November 25.

"It means that next year financing of Abkhazia will double, compared to this year, to 9.2-9.3 billion rubles [about USD 205.3–207.5 million]," Putin said.
This amount of Russian funding for Abkhazia, whose population according to official Abkhaz data is about 240,000, is 4.7% of Georgia's total budgetary revenues forecasted for next year.
In a statement made for the press after the signing of the treaty, Putin also indicated about Russia's willingness to launch talks on possible restoration of railway via Abkhazia to link Russia with Georgia and Armenia. The latter has expressed for multiple times its interests in restoration of this railway link, but authorities in Tbilisi have been cautious because of disputed status of Abkhazia.
"We paid considerable attention to the issue of transport infrastructure during today's negotiations," Putin said after talks with Abkhaz leader Raul Khajimba.
"We consider it possible to think together with other partners and, in case of agreement, to implement the project of railway link in direction of Sukhumi, Tbilisi and further towards Armenia," Putin said.
"We think that implementation of this kind of projects will certainly contribute to creation of conditions for development of cooperation between all the interested countries of the region," the Russian President added.
Putin also said about the new treaty with Abkhazia that it will "provide secured existence of Abkhazia, and will also provide security of its borders."
"I am confident that Russian-Abkhaz cooperation, alliance, strategic partnership will be further strengthening," Putin said.
Khajimba hailed the signing of the treaty as "important historic event in relationship between our states and peoples."
"Our relations are moving qualitatively new level, envisaging close ties in providing regional security and stability," Khajimba said.
"Russia is again demonstrating its commitment towards cooperation on equal basis with Abkhazia, which represents an example of respect of international law,"
"Our people has already made its historic choice a long time ago in favor of strengthening of cooperation and alliance with Russia on the equal basis. It is in line with our long-term, strategic interests and lays foundation for further strengthening of Abkhazia's sovereignty and independence," Khajimba said.
In an interview with the Abkhaz television a day earlier, Khajimba said that Russia was committing more assistance for Abkhazia, because the latter was making its share of contribution in securing Russia's southern borders.
If not Abkhazia, Khajimba said, "NATO troops would have already been standing on Russia's southern borders."
"We have protected ourselves and at the same time protected interests of Russia as well," the Abkhaz leader added.
Idea of "upgrading" existing partnership treaty with Russia was first publicly floated in Abkhazia in late May amid political standoff between then Abkhaz leader Alexander Ankvab and opposition, which at the time was led by Khajimba. The proposal was voiced by Khajimba-led opposition movement, which at the time was holding presidential building in Sokhumi.
After Ankvab was ousted, during the election campaign in the lead up of snap presidential polls, Khajimba was calling for even closer ties with Russia, but short of "association". Three days after being elected as president of the breakaway region, Khajimba met Putin on August 27 at the Novo-Ogaryovo state residence outside Moscow and agreed to sign new comprehensive cooperation treaty before the end of this year.
On October 13 the Abkhaz side made public Russia-proposed draft treaty on "alliance and integration," which was criticized in Sokhumi. Two weeks later the Abkhaz side put forth its revised version of the treaty.
Although the final text, which was approved for signing by governments of the breakaway region and Russia on November 19 and 20, respectively, reflected most of the Abkhaz proposals, concerns about possible absorption of the region by Russia as a result of this treaty still remain in the part of the Abkhaz society.
A rally in support of the treaty was held in Sokhumi on November 24. Speaking at the rally, vice-president of breakaway Abkhazia, Vitaly Gabnia, said referring to opponents' concerns over the treaty: "When it is said that Russia is an empire, which wants to conquer us, I want to respond with the following: empire, which wanted to conquer us is Georgia. Russia has other goals, which are related to development of economy and providing security to Abkhazia."
A parallel rally was also held in Sokhumi, which was organized by opposition Amtsakhara party. Participants of that rally, according to a statement released by Amtsakhara, expressed "support towards spirit of strategic partnership with the Russian Federation, which was reflected in the signed treaty." But the opposition party criticized the Abkhaz leadership for, as it put it, developing the text without proper discussions with all the political forces in Abkhazia.