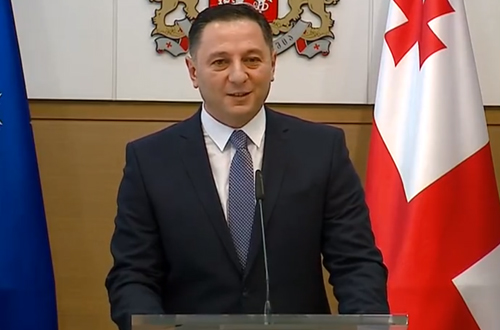 New interior minister, Vakhtang Gomelauri, speaks with journalists after taking the post on January 26, 2015.
PM Irakli Garibashvili appointed on January 26 Vakhtang Gomelauri as new Interior Minister.
Gomelauri, 39, who served as first deputy interior minister, has replaced Alexander Tchikaidze, who filed for resignation last week citing the Vazagashvili case.
Before being appointed as deputy interior minister in spring, 2013, Gomelauri served in security detail of then PM Bidzina Ivanishvili. In December, 2014 he was promoted as first deputy interior minister.
Gomelauri's appointment as head of the powerful ministry did not come as a surprise as his name had been floated by the media in recent days as the most likely replacement of Tchikaidze.
"Vakhtang Gomelauri is distinguished by his professionalism, honesty and commitment to the work and the country," PM Garibashvili said in a brief televised announcement. "He understands very well all the difficulties accompanying holding of this office; this is one of the most difficult sectors, but this ministry is not something new for him. I am sure he will spare no efforts to meet our expectations and to be a successful minister."
Gomelauri said that he's "no stranger to the Interior Ministry."
"More than half of my twenty-year career has been spent with the Interior Ministry," he said. "I will try to do everything as necessary."
In December PM Garibashvili announced about government's intention to reform the Interior Ministry, which now unites under its subordination broad range of "power-wielding agencies" from police, security and intelligence services to border guard and coast guard.
Georgian Dream ruling coalition lawmaker, Irakli Sesiashvili, who chairs parliamentary committee for defense and security, said on January 26 that Gomelauri will have to lead the Interior Ministry in "a difficult period."
"As you know the Interior Ministry reform is planned and his [the new minister's] role will be important in this process," MP Sesiashvili said.
Gomelauri declined to respond journalists' questions on January 26, including the one on planned reform of the Interior Ministry.