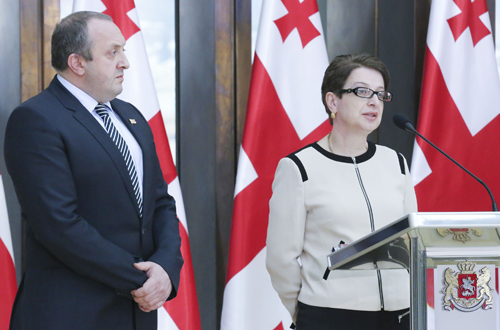 President Giorgi Margvelashvili and his pick for Supreme Court chair, Nino Gvenetadze, in the presidential palace, February 17, 2015. Photo: president's administration
President Giorgi Margvelashvili named former judge of Supreme Court, Nino Gvenetadze, as a candidate for the post of Supreme Court chairperson to replace Kote Kublashvili, whose ten-year term in office expires this month.
Gvenetadze will require support of at least 76 MPs to be endorsed on the post.
She was one of those three judges, who in 2005 spoke out publicly against what they called was pressure on judges by the authorities. Dubbed by the media as "rebel judges", they claimed at the time that some Supreme Court judges were forced by prosecutor's office and Chairman of Supreme Court Kota Kublashvili to file for resignations. After leveling those allegations, Gvenetadze and several other members of the Supreme Court were dismissed by the judicial disciplinary commission in December, 2005, accusing them of misconduct.
Gvenetadze has been selected by the President from the list of 28 contenders.
President Margvelashvili said while announcing decision on February 17 that his choice, apart of requirements set by the law, was based on criteria which were agreed upon as a result of his consultations with civil society and political groups in the Parliament, involving "being principled, professional, having managerial skills, and being free from political influences."
Before serving for six years as a member of the Supreme Court till late 2005, Gvenetadze was head of Tbilisi-based legal advocacy and rights group, Georgian Young Lawyers' Association (GYLA) in 1998-1999.
In 2008 parliamentary elections she was running for a seat in the legislative body from the Republican Party, which at the time was in opposition and which failed to clear electoral threshold to endorse candidates to the Parliament.
Touching upon her political background, President Margvelashvili said that Gvenetadze was a member of the Republican Party when this latter was in the opposition, but "suspended her membership in this party" after the Republicans came into power as part of the Georgian Dream ruling coalition in late 2012.
"I think that this is also an important part of this person's biography," Margvelashvili said.
"The person selected by us is a symbol of being principled, has a huge experience and knowledge of the judicial system," the President said.
"The person selected by us is a symbol of protection of the judiciary and a symbol that there are judges in Georgia for whom the rule of law and strength of judicially is supreme," the President said. "The person selected by us is a symbol of being principled, has a huge experience and knowledge of the judicial system."
He also said that he believes Gvenetadze's nomination will serve to an "irreversible" process of strengthening independence of the judiciary.
After being named as a candidate, Gvenetadze said that in case of her approval on the post by the Parliament her "primary goal will be protection of dignity" of judges and their rights.
"[Overcoming] difficult challenges, facing improvement of judicial system, based on rule of law and human rights priority, require support of the entire judiciary," she said.
One of those former judges, who along with Gvenetadze and some others, spoke out publicly against "pressure" on judges in 2005, Merab Turava, is re-nominated by Georgian Dream-Democratic Georgia parliamentary faction as a member of Constitutional Court.
After Gvenetadze's nomination by the President, some of the senior GD lawmakers, among them chairperson of human rights committee in the parliament, Eka Beselia, have spoken positively about the candidate. MP Beselia, however, also said that the GD parliamentary majority would meet to define joint position.
MP Shalva Shavgulidze from the opposition Free Democrats party, who was among 28 contenders for the Supreme Court chairmanship post, also spoke positively about Gvenetadze and endorsed her nomination.
MP from UNM parliamentary minority group, Sergo Ratiani, said that by naming Gvenetadze President Margvelashvili failed to observe most of the criteria the President himself identified; MP Ratiani said that Gvenetadze is affiliated to the Republican Party and was Supreme Court judge when the judiciary was engulfed in the corruption.
Gvenetadze's nomination was offered to the President by Human Rights Centre and several other non-governmental organizations.
UNM MP Zurab Japaridze noted that one of the NGOs, which offered Gvenetadze's candidacy to the President, was Young Barristers, which is affiliated to the government. He also said that UNM has negative stance about the nomination also because Gvenetadze was a member of a commission, which compiled list of "political prisoners", who were released from prison as a result of amnesty after the GD coalition came into power. "This person was the member of a commission, which made the list of so called political prisoners and released from prison spies and violent groups without studying each case separately," he said.
If confirmed by the Parliament, Gvenetadze will become the first ever female chairperson of the Georgian Supreme Court.