'Military threat from Russia remains high';
'Moscow is intensifying use of soft power';
Potential French arms deal 'not thwarted';
Minister discussed this potential deal at closed-door meeting with MPs;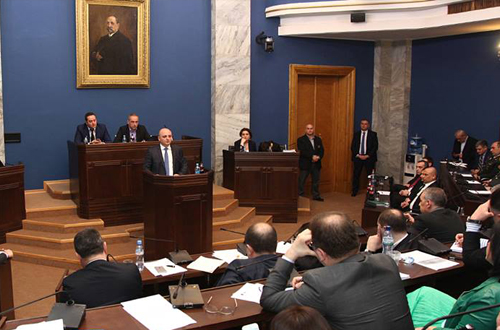 Defense Minister, Mindia Janelidze, speaks at a hearing of the parliamentary committee for defense and security in Tbilisi, April 8, 2015. Photo: MoD
Georgian Defense Minister, Mindia Janelidze, told lawmakers that Russia's military threat, combined with Moscow's "intensified" efforts to apply its "soft power" aimed at "forcing" Tbilisi to change its pro-Western course, are among the major factors shaping country's security environment.
Janelidze appeared for the first time before lawmakers on April 8 at a lengthy hearing of the parliamentary committee for defense and security, which was then followed by his closed-door meeting with a small group of MPs with access to classified defense-related programs to discuss a potential arms deal with France, which has recently become a politically-charged issue accompanied by mutual accusations between the opposition and the government.
He started his lengthy opening remarks by speaking about security environment.
"Situation in Georgia's occupied regions and developments in Ukraine largely determine Georgia's current security environment," he said. "We are facing growing challenges amid increasing confrontation between Russia and the West."
He said that Russia's so called "alliance" treaties with Abkhazia and South Ossetia represent "step towards annexation" of these regions and "continuation of Russia's aggressive policy", which has "a serious affect on security environment."
"Georgia's pro-Western political course comes in conflict with Russia's strategic interests in the region, therefore risk of military threat from Russia remains high," the Defense Minister said.
Janelidze said that Russia has total of 10,000 military personnel on the occupied territories of Abkhazia and South Ossetia, as well as up to 2,500 Russian border guard troops, which are under the subordination of Russia's Federal Security Service; he said that FSB's border guard troops are "actively involved in intelligence-operative activities against our country." He said that Russia also maintains "tactical missile systems, air defense missile systems, high caliber artillery" in the breakaway regions.
He said that claims on territories beyond the breakaway region, which are voiced occasionally by "puppet regime" in breakaway South Ossetia, "is a factor, which should also be taken into consideration when it comes to security environment."

Janelidze said that along with military threat, Russia's "so called soft power, which has intensified recently, should also be taken into account."
"It aims at influencing Georgia's foreign policy course and forcing the country to divert from its pro-Western course. This is also an important component of our security environment," the Georgian Defense Minister said.
He said that he's not able to speak more openly about it at the public hearing, but is ready to discuss with MPs details of what precisely "is being carried out by our adversary", as well as about counter measures by Georgia's "relevant agencies" behind the closed door.
When asked about the issue later during the hearings, Janelidze responded that Russia's "soft power" in Georgia is "mainly demonstrated in increase of number of entities, which are loyal towards our adversary."
"Competent [Georgian] agencies are working on this issue. We see this problem; as we state openly that such problem exists it means that we are reacting to this problem," Janelidze said.
During the hearings opposition UNM lawmakers, who called on the Defense Minister to resign, criticized Janelidze, among other issues, also for not even mentioning Russia in "minister's vision" – a document outlining MoD's priorities for 2015-2016, which was presented by Janelidze last month. Janelidze, however, downplayed absence of Russia from "minister's vision" and said: "It is less important. Important is our position and I've spoken for about half an hour about it in my opening remarks."
Some UNM MPs asked the minister about one of his deputies, Levan Girsiashvili, who, as MP Giorgi Kandelaki put it, "represents openly Putinist party" – a reference to Nino Burjanadze-led Democratic Movement-United Georgia (DMUG) party. Allegation stems from the fact that Girsiashvili was listed on DMUG's website among the 45 members of party's consultative council.
"Levan Girsiashvili has never been a member of the Democratic Movement party; it has been stated by Mr. Girsiashvili himself and by this party too," Janelidze said. "This is an attempt to mislead the public."
Asked by UNM MPs if he acted as a "contact person" for ex-PM Bidzina Ivanishvili in relations with the Russian intelligence agencies, Janelidze, who was chief of counter-intelligence department at the interior ministry from late 2012 till early 2014, responded it was "utter nonsense" and "irresponsible" allegation.

Potential French Arms Deal 'Not Thwarted'
In their questions to the minister, lawmakers from the Free Democrats (FD) opposition party were focusing mostly on allegations that the government has thwarted potential arms deal with France.
Ex-Defense Minister and leader of FD, Irakli Alasania, claimed last week that the government abandoned preliminary deal – a non-binding memorandum of understanding, which he negotiated in France shortly before being sacked from the cabinet five months ago and which would have paved the way to purchasing of much-needed air defense system.
"This is absurd. Nothing has been thwarted," Janelidze said. "Everything goes on as planned. Much talk on these issues publicly will only damage the process. I call on everyone to speak less about it and to discuss it in details in other formats [behind the closed doors]."
The minister discussed the issue at a closed-door meeting with a small group of lawmakers, known as Group of Confidence, uniting several opposition and ruling party MPs tasked to provide parliamentary oversight on secret defense and security programs.
"We have been offered mechanisms for monitoring this process, therefore we will observer this process and will make conclusions based [on this monitoring]," UNM MP Givi Targamadze, member of the Group of Confidence, told journalists after the closed-door meeting.
During the committee hearing, Janelidze said that increase of country's air defense capabilities is one of the priorities for MoD and added that consultations on the issue are ongoing not only with France but with other partners as well.
"Active consultations are underway not just with one, but several partner states, to increase our air defense capabilities," the Defense Minister said.
NATO
The Defense Minister told lawmakers at the committee hearing that implementation of all the components of substantial package of cooperation with NATO was ongoing without any delay. He reiterated that joint NATO-Georgia training and evaluation center, envisaged by the substantial package, will be established in Georgia this year.
"Our intensive cooperation with NATO and with our western partners demonstrates the Georgian government's unwavering commitment to defending country's pro-western foreign policy course," Janelidze said.
Asked about Georgia's expectations from the next NATO summit in Warsaw in 2016, Janelidze said it was too early to speak about the specifics, but consultations were already ongoing to receive "tangible results" from next year's summit.
"Of course we are already preparing for the Warsaw summit," he said. "We are preparing MoD's proposals, but this issue goes beyond only just MoD's [competence] and these proposals will be finally outlined as a result of consultations with the Foreign Ministry and the government. But we are already thinking about it and we have already launched consultations on this issue with some of our partners in order to get tangible results from the Warsaw summit."
He said that joint U.S.-Georgian military exercises, Noble Partner, will be held in May at the Vaziani base outside Tbilisi and annual joint U.S.-Georgian military drills, Agile Spirit, will be transformed into "joint NATO-Georgia exercises" from this year.
On other issues, the Defense Minister was also asked if the plan, first announced by his predecessor Irakli Alasania in early 2013 and then reiterated by then PM Bidzina Ivanishvili, to abandon conscription system and move to fully professional army within four years, was still in place.
"We are planning to move fully on contract-based military service," Janelidze responded without specifying timeframe. "We are already gradually decreasing number of conscripts in combat units."