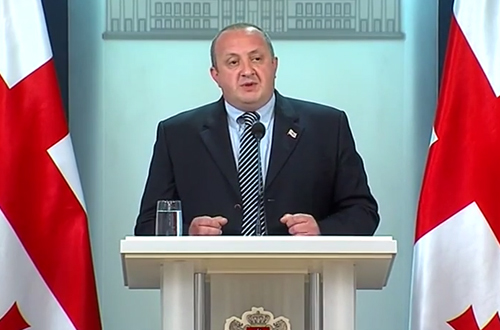 A screengrab from President Giorgi Margvelashvili's televised statement announcing about his decision to use fully his constitutional right of seven-day deadline and not to submit immediately proposed reshuffled cabinet to the Parliament for confirmation.
President Giorgi Margvelashvili has complained about frequent change of defense ministers and suggested that a surprise announcement by incumbent PM Irakli Garibashvili to change three cabinet members, instead of initially planned two, leaves an impression that the government operates in a "force majeure mode."
Citing these reasons, President Margvelashvili said that he will use fully his seven-day deadline before sending reshuffled cabinet for confirmation in the Parliament, effectively dragging out the process of confidence vote.
Under the constitution the President has no right to change or block cabinet nominations, but he has seven days to put his signature on the list of cabinet members, which should then face confidence vote in the Parliament.
Georgian Dream parliamentary majority and incumbent PM Irakli Garibashvili stated for multiple times that they want the confidence vote procedures to be finalized as soon as possible.
Before President's announcement the Parliament was planning to start confirmation hearings on Friday and hold confidence vote over this weekend, but the legislative body had to change these plans after the President's announcement as the process now seems to be delayed at least for a week.
President made his announcement an hour after PM Garibashvili said that along with new sport and environment ministers he was also nominating MP Tina Khidasheli as new defense minister, replacing Mindia Janelidze, who held this post since November, 2014 when then defense minister Irakli Alasania was sacked. Two days ago PM Garibashvili was ruling out any major reshuffle in the cabinet and was saying that he was going to change only those two government members – ministers of sport and environment – who filed resignation this week. Last week infrastructure minister Davit Shavliashvili was also replaced.
In a televised statement, President Margvelashvili said that in the condition when three ministers step down in a week and when "we knew that only two ministers were going to be replaced, but next day we learn that there will be three changes, I have an impression that the government is working in bit of a force majeure mode."
"I want to remind everyone that we are facing difficult challenges," Margvelashvili said.
"As the commander-in-chief, I want to ask a question: how frequently should we replace defense ministers?" the President said.
"Against the background of this difficult situation, I want to give possibility both to the Prime Minister and the Parliament to carry out consultation in calmer atmosphere and define composition of the cabinet," Margvelashvili said.
"I use the only constitutional lever available for me in this situation and delay for a week my signature, which I should have put on the list of cabinet members."
"I hope that our political leadership will take a balanced decision in calm conditions within this one week," President Margvelashvili added.
Reactions to President's Decision
After the President's announcement, Parliament speaker, Davit Usupashvili, said that the legislative body was ready to launch confidence vote procedures and hearings of reshuffled cabinet on Friday.
"But the President decided to use his seven-day timeframe; under the constitution he has such right," Usupashvili said. "President is elected to take reasonable decisions important for the state. As it seems he decided that we need more time in this impromptu situation to define whether we are giving confidence vote or not to the reshuffled cabinet. That's his view. We may have different view and we may think that we were able to decide it today, but let's respect constitutional authority. He decided to give us more time to think. More deliberation is never harmful. The country's has incumbent government with full authority, which continues its work."
GD parliamentary majority leader, MP Davit Saganelidze, said that although it was "very desirable" to give confidence vote to the reshuffled cabinet as soon as possible, "there is a certain logic" in President's decision to give more time to the Parliament for consideration.
UNM parliamentary minority leader, MP Davit Bakradze, hailed President's decision not to formally nominate reshuffled cabinet "in haste." He said that proposed changes, which do not concern PM and government's economic team, will fail to address "economic crisis" in the country and reiterated UNM's demand to have a new "technical" government before the parliamentary elections. He also said that UNM will seek a meeting with the President to discuss the issue; the president, under the constitution, has no say over composition of government and can only influence on the pace of confidence vote procedures.