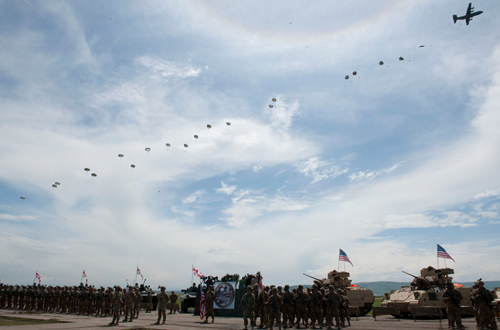 Paratroopers jump out from aircraft over Vaziani military training ground outside Tbilisi as Georgiana and U.S. solders are lined up in front of Bradley and BMP-2 infantry fighting vehicles during an opening ceremony of joint military drills Noble Partner on May 11, 2015. Photo: Eana Korbezashvili/Civil.ge
Two-week long joint U.S-Georgian military exercises, Noble Partner, started at the Vaziani training area outside Tbilisi on May 11.
About 600 soldiers from the both countries are participating in the exercises, which aim at enhancing U.S. and Georgian NATO Response Force interoperability.
"I want to remind everyone that although Georgia is not a NATO member state, it is voluntarily taking part in NATO Response Forces," Georgian PM Irakli Garibashvili said in his speech at the opening ceremony.
14 Bradley infantry fighting vehicles and several wheeled-support vehicles were shipped by the U.S. Army Europe from Bulgaria to Georgia across the Black Sea for participation in the Noble Partner exercises, which are held for the first time in Georgia.
Drills will include a combined parachute operation, classroom training, a field training exercise and a live-fire exercise.
"These exercises represent yet another confirmation of firm military cooperation between Georgia and the United States," the Georgian PM said.
"I also want to emphasize that these exercises are not directed against any particular threat. These military drills aim at increasing compatibility with the NATO Response Force," he said.
"I want to thank our main strategic partners and real friend – the United States, for sponsoring these exercises and for supporting Georgia," the PM added.
A mechanized infantry company from 1st Brigade, 3rd Infantry Division, which is part of the U.S. contribution to NATO Response Force in 2015, as well as a rifle company of paratroopers from the 173rd Airborne Brigade are taking part in the drills from the U.S. side.
The Georgian participation includes a company from 1st infantry brigade's 12th battalion; a mechanized company from 4th mechanized brigade's 42nd battalion and a military police unit.
"Joint military exercises [with the U.S. troops] of such scale are taking part for the first time in Georgia," Tina Khidasheli, Georgia's new Defense Minister, told journalists after the opening ceremony.
"This is just the beginning. These exercises are important for number of reasons. It shows that Georgia has not just a partner, but a friend [referring to the U.S.], which is ready to help Georgia in every possible way to strengthen its statehood and its army. Second: it is unique opportunity for the Georgian solders to train alongside with the U.S. troops with the use of U.S. military equipment. And the third: there is a long-term plan of cooperation in frames of the Noble Partner. Several other large-scale exercises are also planned this year, including NATO-Georgian exercises, which are planned for this summer and which will feature troops from Georgia and several NATO [member states]."
"We do not plan to go into war with anyone; we prepare for peace and that's precisely why we need strong army," the Georgian Defense Minister added.
U.S. Deputy Assistant Secretary of Defense for Russia, Ukraine and Eurasia Evelyn Farkas, who visited Tbilisi late last month, described the Noble Partner drills as "the most robust" that the U.S. has conducted with Georgia to date.
"It is a critical part of our [Georgia and the United States'] contributions to the NATO Response Force," she said on April 24 in Tbilisi.