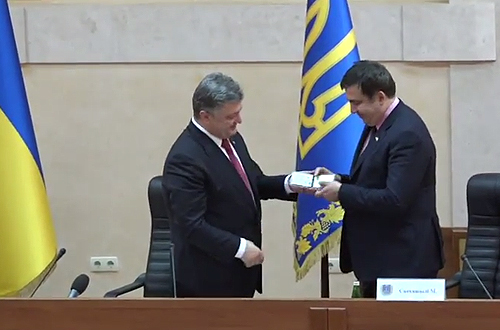 Grab from video footage showing Ukraine's President Petro Poroshenko (left) granting Ukrainian citizenship to Georgia's former President Mikheil Saakashvili (right) after making announcement about appointing Saakashvili as governor of Odessa region in southwestern Ukraine.
Ukrainian President Petro Poroshenko appointed on May 30 Georgia's former President Mikheil Saakashvili as head of Odessa region in southwestern Ukraine.
President Poroshenko granted Ukrainian citizenship to Saakashvili on May 29. It means that Georgia' former president will lose his Georgian citizenship.
Saakashvili, who has served as a nonstaff adviser to Ukrainian President Petro Poroshenko and chaired Ukraine's International Advisory Council on Reforms since February, is wanted by Georgia on number of criminal charges, which he denies as politically motivated.
Saakashvili has said for number of times since November, 2014 that he had been offered the post of Ukraine's deputy prime minister, but he had to decline it as he did not want to lose the Georgian citizenship.
While presenting new governor to the local authorities in Odessa, President Poroshenko said that Saakashvili is his "friend from student years" and is known for "making the impossible possible."
Saakashvili said that Odessa is "is one of the most interesting cities I have ever seen", which should be "the main city, the capital of the entire Black Sea." He also said that it will be a "lengthy process" and "new rules are required for that to happen."
"Multi-ethnic, diverse, multi-cultural society of Odessa is its major potential – it's not a weakness, it's a huge chance; I do not know any other city with such history, traditions," Saakashvili said. "There is no other city on the Black Sea, which can compete with its potential with this wonderful city."
After the reports first emerged on Friday about Saakashvili's nomination as governor of Odessa, Georgia's ex-president posted on his Facebook and Twitter:
Among other former Georgian officials, who now serve on senior government posts in Ukraine are: Alexander Kvitashvili, Ukraine's healthcare minister, who held the same post in Georgia; Eka Zguladze, Georgia's former deputy interior minister, who is now Ukraine's deputy interior minister; ex-MP from UNM party and Georgia's former deputy chief prosecutor Davit Sakvarelidze, who was appointed as deputy general prosecutor of Ukraine; and Gia Getsadze is Ukraine's Deputy Justice Minister.