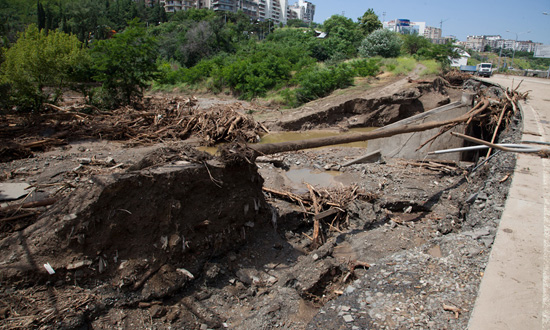 Highway, severely damaged by the flooding, near the Tbilisi zoo, June 14, 2015. Photo: Guram Muradov/Civil.ge
Monday has been declared a national day of mourning over the victims of flooding that hit several central parts of Tbilisi overnight on Sunday.
At least 12 people died and 24 remain missing, according to the Interior Ministry.
Speaking at a meeting of government members, discussing relief efforts, Finance Minister, Nodar Khaduri, said that according to preliminary estimation flood damage cost is at least GEL 40 million, but also stressed that it was not a final estimation.
PM Irakli Garibashvili vowed that "not a single family" affected by the flood "will be left without attention."

"We should record in details damage inflicted to those families and we should assist them maximally," he told the cabinet members.

Temporary housing has been provided to 45 families and 20 others will also be provided with accommodation before the end of the day, Tbilisi Mayor, Davit Narmania, said.
He also said that "some hotels" offered rooms to flood victims "free of charge."

People are turning out in large numbers to volunteer in helping in relief efforts and to clear affected streets from dirt and mud left after the flooding.
The PM said that people are showing "unprecedented solidarity" and thanked them for that. He, however, also said that number of state agencies' employees, plus already volunteered people, already makes "enough manpower" required for the relief efforts.
"The government will ask for more people's involvement if need be," the PM said.
President Giorgi Margvelashvili has ordered use of army forces for the purpose of "responding to emergency situation," secretary of the National Security Council, Irine Imerlishvili, said.
Government representatives will be meeting UN agencies on Sunday to inform them on what type of assistance from the UN is required.
UN refugee agency, UNHCR, said that its office in Tbilisi "mobilized staff to organize an emergency response."
"Trucks were loaded with non-food items and are on standby to deliver assistance to the affected population," it said.
The Georgian PM said that his Latvian, Armenian, Azerbaijani, Turkish, Ukrainian counterparts phoned him to express readiness to provide assistance. "I want to thank them for this solidarity," he said.
Latvian PM's office said that during the phone conversation the Georgian PM noted that situation in Tbilisi is "under control and additional support is not required."
According to Infrastructure Minister Nodar Javakhishvili, Vere river was dammed up by a large landslide, caused by heavy rainfall, on Tskneti-Betania road outside Tbilisi, which then burst, sending torrent of water down towards the capital city.
The flood also destroyed Tbilisi zoo, which lost about half of its animals, among them lions, tigers, bears and wolves. Most of them are thought to be killed by flooding, but some have escaped. Some of those animals, which survived the flooding, were shot by law enforcement officers or re-captured and returned back to the zoo. Search of animals, which remain on the loose, still continues, Tbilisi Mayor Davit Narmania said.