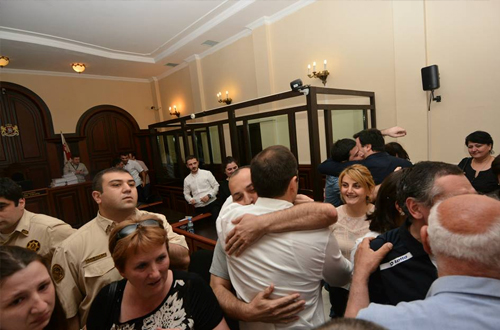 A courtroom in the Tbilisi City Court, where friends, relatives and supporters of ex-MoD officials, among them ex-defense minister and leader of Free Democrats opposition party Irakli Alasania, celebrate decision of the judge to release five accused men from the pretrial detention on June 19, 2015. Photo: FD party
Judge ordered on June 19 release of five former MoD and general staff officials from pretrial detention on personal guarantee of a group of lawmakers from the opposition Free Democrats party.
The release of the five men, who spent almost eight months in pretrial detention, came after the prosecution dropped its objection against their release on June 18.
One former and four serving officials from MoD and general staff were arrested on October 28, 2014 and charged with misspending GEL 4.1 million in an alleged sham tender in 2013 on laying fiber-optic cable. They deny charges.
This co called "cable case" led to major split within the Georgian Dream (GD) ruling coalition and the firing of Defense Minister Irakli Alasania, followed by resignations of his two allies from cabinet posts. It resulted in Alasania's Free Democrats leaving the GD coalition in November, 2014. Throughout this period Alasania has been denouncing investigation against the MoD officials as "politically motivated" and saying that the arrested former officials were ex-PM Bidzina Ivanishvili's "personal prisoners."
Alasania said on June 18 that the prosecutors' decision to drop objections against the release of ex-officials was an attempt to "save face" as defense lawyers were planning to file a similar motion and there was no reason for the judge to decline it.
The prosecution wanted the five men to be released on bail, but the judge accepted defense lawyers' motion and the accused men were released on personal guarantee of a group of five lawmakers from the Free Democrats party: Zurab Abashidze; Nino Goguadze; Victor Dolidze; Irakli Chikovani and Shalva Shavgulidze.
Ivanishvili told journalists on June 18 that Alasania is "lying" while leveling allegations about politically motivated arrest of former MoD officials.
In an interview with Rustavi 2 TV on June 19, Alasania said that Ivanishvili's "mafia-type" of rule will fail in Georgia.
"The Georgian society will stand together in order not to allow him [Ivanishvili] to turn Georgia into a mafia clan," Alasania said.

Prosecutors' decision to drop objection against release of the accused men came 40 days before the expiration of the nine-month pretrial detention period.
The trial into the "cable case" is now at its preliminary or pretrial hearing stage, when a judge decides on the admissibility of evidence submitted by the parties and hears various motions from the parties.
Defense lawyers will now try to convince the judge to drop the entire case against their clients.
Earlier this month the Tbilisi City Court ruled in favor of the defense's motion and found a key piece of prosecution's evidence – an expert report assessing the engineering and other aspects of the fiber-optic cable project – inadmissible. But the prosecution appealed the ruling and the Court of Appeals overturned the lower court's decision.