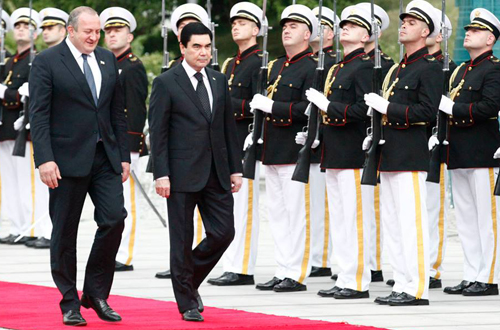 Turkmenistan's President Kurbanguly Berdymukhamedov (right) and his Georgian counterpart Giorgi Margvelashvili (left) walk past honor guards during a welcoming ceremony at the presidential palace in Tbilisi, July 2, 2015. Photo: Georgian president's office
Energy projects, involving potential transit of Turkmen gas via southern corridor to Europe, were among the main issues discussed by the Georgian leaders and President of Turkmenistan, Kurbanguly Berdymukhamedov, who is paying his first official visit to Georgia on July 2-3.

President Berdymukhamedov said after meeting his Georgian counterpart Giorgi Margvelashvili that Turkmenistan wants to have an excess to the European markets via South Caucasus.
"Energy is one of the issues on which we cooperate closely… Transit route from Turkmenistan to Azerbaijan, Georgia and Turkey has a huge potential," he said.
President Margvelashvili said that "this cooperation is beneficial" not only for Georgia and Turkmenistan, but also for "the entire region and for many countries in Eurasia."
"Our joint transit and energy projects will make it possible to transit Turkmen energy resources to the European markets," the Georgian President said.
A joint statement of the two presidents notes "importance of balanced policy of Turkmenistan, which is directed towards diversification of supply routes of its natural gas to the world markets."
"The Presidents emphasized especially on the importance of supply of energy resources from the Caspian Sea to Europe," the joint statement reads.

On May 1, 2015 Energy Ministers of Turkey and Azerbaijan, head of Turkmenistan's hydrocarbon resources agency, as well as European Commission Vice President in charge of Energy Union met in Ashgabat and agreed to work on a legal framework agreement on natural gas supply from Turkmenistan to Europe.
Georgia has also been invited to participate in a working group, which has to consider legal, commercial, technical and other aspects of the project, designed to supply Turkmen gas to Europe through the Southern Corridor, which runs from Azerbaijan to Turkey via Georgia.
European Commission Vice President in charge of Energy Union, Maroš Šefčovič, told Reuters in May, that the EU expects supplies of Turkmen gas to begin by 2019.
"We agreed that we would work in the format of Turkmenistan, Turkey, Azerbaijan and the EU, and that we will invite Georgia, because it is an important transit nation from the point of view of the southern gas corridor," he said.
In Tbilisi the President of Turkmenistan also met on July 2 PM Irakli Garibashvili and Parliament Speaker Davit Usupashvili.
"Joint strategic protects and Georgia's potential as of a transit route were the main topics of discussion," the Georgian PM's office said.
Turkmenistan's governmental delegation started talks with the Georgian counterparts in Tbilisi on the eve of President Berdymukhamedov's visit. The delegation also visited Black Sea port of Poti.
The joint statement of the two presidents says that in order "the two sides also discussed increase of competitiveness of Europe-Caucasus-Asia transportation route through efficient use of potential of ports of Turkmanbashi [in Turkmenistan], Batumi and Poti [in Georgia]."
President Giorgi Margvelashvili, who visited Turkmenistan in December 2014, has been invited to Ashgabat for participation in a conference on "Policy of Neutrality" planned for December, 2015.