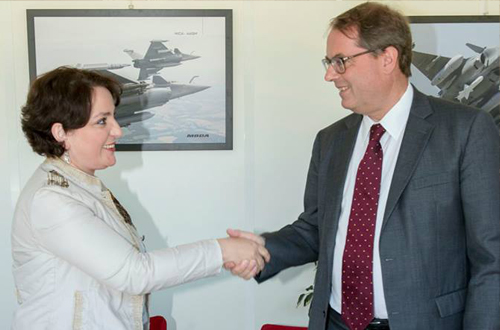 Georgia's Defense Minister Tina Khidasheli and CEO of MBDA Antoine Bouvier, July 10, 2015. Photo: Georgian MoD
Georgia has signed a contract with European missile manufacturer MBDA to buy the "state-of-the-art defense system", according to the Georgian Defense Minister, Tina Khidasheli.
The agreement was signed in Paris on July 10 by the Georgian Defense Minister and Antoine Bouvier, CEO of MBDA, a consortium that includes Italy's Finmeccanica SpA, Airbus Group and Britain's BAE Systems Plc.
It comes less than a month after Georgia signed a separate deal with ThalesRaytheonSystems, a producer of ground-based surveillance radars and air defense command and control systems.
Neither values nor content of the two contracts are reported by the officials, who are citing confidentiality of security related matters.
Defense Minister Khidasheli said after signing of the contract with MBDA, that these two deals will "guarantee" Georgia's air defense.
"The main goal has been achieved – we have bought a foundation to guarantee Georgia's air defense, which will be completely compatible with NATO systems, and we have bought weaponry, defense system, which is the most state-of-the-art currently available in the world," Khidasheli said.
"I am very satisfied with these two agreements – in terms of political importance, as well as in terms of their content and price," she said, suggesting that these deals signal the end of so called de facto arms embargo, when Georgia's western partners were reluctant to sell defensive weapons to Tbilisi after the August, 2008 war with Russia.
"The French partners demonstrated incredibly high level of partnership and desire to help us. Such decisions of course are not made without a political will," she said.
Implementation of the contract will start from January 1, she said.
Khidasheli also said that she personally thinks some parts of the agreement should be made public.
But at first, she said, she has to report about the deals to President Giorgi Margvelashvili, who is the commander-in-chief, and to the Group of Confidence – a team of five lawmakers in charge of parliamentary oversight on classified defense spending.
Negotiations on procurement of air defense systems became a source of political accusations between ex-defense minister Irakli Alasania's Free Democrats party and the government three months ago.

In early April, Alasania claimed the government abandoned preliminary deal – a non-binding memorandum of understanding, which he negotiated in France in late October, shortly before being sacked from the cabinet. The allegation was strongly denied at the time by then defense minister Mindia Janelidze, who is now secretary of the State Security and Crisis Management Council, and who was replaced on defense minister's post by Khidasheli in early May.