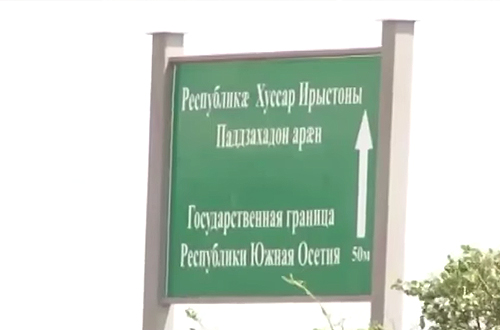 Banner marking "State Border of Republic of South Ossetia" in Russian and Ossetian languages, placed at the breakaway region's administrative boundary line on July 10, 2015.
Russia's recent border marking activity at the South Ossetian administrative boundary line in a short distance from the major east-west highway and in the area where BP-operated Baku-Supsa oil pipeline runs, will not weaken importance of Georgia's strategic transit route, President Giorgi Margvelashvili said.

"Every new meter of dividing line on the Georgian sovereign territory is unacceptable; it is especially unacceptable when such dividing line runs in the close vicinity of strategic facilities," President Margvelashvili said.
"But Georgia's function as of a transit country, which we are efficiently developing, will not be lessened; on the contrary, it will further strengthen in the future," he said.
Margvelashvili made the remarks after a meeting with head of the EU Monitoring Mission in Georgia Kęstutis Jankauskas, as well as with representatives from BP Georgia and the state-owned Georgian Oil & Gas Corporation.
On July 10 banners marking "South Ossetian border" were placed close to the village of Tsitelubani in the Tbilisi-controlled area and the village of Orchosani in the breakaway region of South Ossetia.
Within eyeshot of the new "border marking" banner is Georgia's major east-west highway, which is also used by most traffic from Azerbaijan and Armenia to the Black Sea ports and Turkey.

Dashed line marks the administrative boundary line of breakaway South Ossetia.
The new markers also left 1,605-meter portion of the BP-operated Baku Supsa oil pipeline within the territory outside Tbilisi's control.
830km pipeline, which is also known as Western Route Export Pipeline (WREP), runs from Azerbaijan to the Georgian Black Sea terminal of Supsa.
"WREP continues to operate as normal - safely and to the highest international standards," Tamila Chantladze, a spokesperson of BP Georgia, told Civil.ge on July 13.
31 million barrels of oil was transported via WREP in 2014 and 16 million barrels in the first half of 2015.

Another BP-operated pipeline, Baku-Tbilisi-Ceyhan (BTC), which also runs in Georgia, transported over 260 million barrels from Azerbaijan to the port of Ceyhan in the Turkish Mediterranean in 2014.
Georgian Energy Minister, Kakha Kaladze, said that the 1,605-meter section of WREP, which now falls on the territory outside Tbilisi's control, can be rerouted if there is any problem to its operation.
According to BP Georgia, even before the recent border marking activities it was developing plans to upgrade WREP by replacing remaining Soviet-old pipes and rerouting some of its sections as part of the routine maintenance works.
"The proposed work… will take the pipeline out of the territory of Akhalgori district," BP Georgia spokesperson said, referring to the district, which is located in the breakaway region.
When WREP became fully operational in 1999, Akhalgori district, like some other parts of the former South Ossetian autonomous district, were under Tbilisi's control; the Georgian authorities lost control over those areas as a result of the August, 2008 war.
WREP tariff payment to the Georgian government was USD 7.7 million last year.
Back in 2006 the pipeline was shut down for some time for maintenance works during which oil was redirected to BTC pipeline and to railway shipments.
Authorities in breakaway South Ossetia have dismissed concerns over Baku-Supsa pipeline operation as "farfetched".
Khokh Gagloity, who represents Tskhinvali in regular meetings of the Incident Prevention and Response Mechanism in Ergneti, said that Tbilisi's "overblown hysteria" about "routine border marking activities on the territory of South Ossetia" is "vulgar provocation."
"'Worries' of some officials in Tbilisi over operation of the Baku-Supsa oil pipeline, running on the territory of the Republic of South Ossetia, seem to be farfetched," Gagloity said.
"The section of the Baku-Supsa oil pipeline, which runs on the South Ossetian territory, operates in a normal working mode from the time when it was laid. If there are any questions over providing service to the pipeline, BP can independently address us, and there is no doubt that everything will be done and is being done for the full functioning of the pipeline," Gagloity said.

Meanwhile, on July 13 Georgia's Deputy Foreign Minister, Davit Dondua, met Tbilisi-based foreign diplomats and briefed them about recent "border marking" activities.
The Georgian Foreign Ministry has condemned "this illegal action" and called on the international community to "assess appropriately this move, which is directed against peace and security."
If this border marking activity results into actual borderization, involving installing of barbed wires or fences, like it is at some other sections of the administrative boundary line, locals will be cut from their farmlands.
"This is an obvious provocation, a deliberate provocation, a very dangerous provocation," Zurab Abashidze, Georgian PM special representative for relations with Russia, said on July 12.
Abashidze, who visited areas, where the Russian border guard forces placed banners, marking the "border of South Ossetia", said that he would raise the issue when he meets Russia's Deputy Foreign Minister Grigory Karasin in Prague on July 15 in frames of direct bilateral dialogue between the two countries, launched in late 2012.