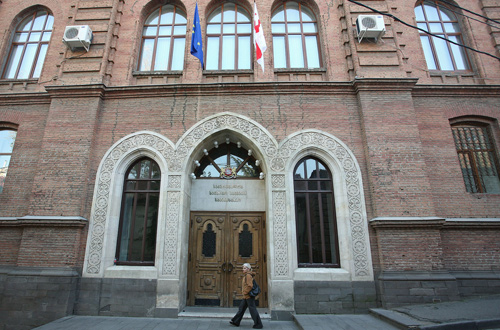 A woman walks past the Georgian Ministry of Foreign Affairs. InterPressNews file photo.
Georgian Foreign Ministry has welcomed Iran nuclear deal as "an important step towards international peace and stability."

The agreement reached in Vienna on July 14, between Iran and the P5+1 – the U.S., China, Russia, France, United Kingdom and Germany – will grant Tehran sanctions relief in exchange for long-term curbs on its nuclear program.
In a statement on July 15, the Georgian Foreign Ministry expressed hope that "the subsequent process under the achieved plan will take place in full accordance with the agreed parameters."
"Georgia expresses its satisfaction with the fact that the durable and active diplomatic process led sides to reach a consensus and through dialogue agree on the plan to resolve complex issues related to the Iran's nuclear program," it said.
"The Ministry believes that the achieved deal over the Iran's nuclear program represents an important step towards international peace and stability and commends the involved Parties in the negotiations for their immense efforts," the Foreign Ministry said.
"In addition, achieved deal brings about normalization of relations between Iran and Western countries, which will create new economic opportunities for the countries both in the region and in the entire world," it said.
MP Gubaz Sanikidze, vice speaker of parliament, who visited Iran twice over the past ten months in his previous capacity of chairman of the committee for diaspora issues, said that the agreement is "very significant" for Georgia too. Speaking at a parliamentary session on July 15, the GD lawmaker called on the Foreign Ministry "intensify relations with Iran."
"Iran may turn into stabilizing factor in the Middle East. Georgia has a chance to play an important role in relations between Iran and the West. Our government is on the right path in this regard, but I think that we will have to intensify certain processes. This agreement may also play a positive role for Georgia in terms of security as well, so we should pay more attention to developments in the south, because soon those events may also determine our issues in respect of our relations on the northern direction [referring to Russia]. A very serious process is starting in which we should be very careful and mobilized," MP Sanikidze said.