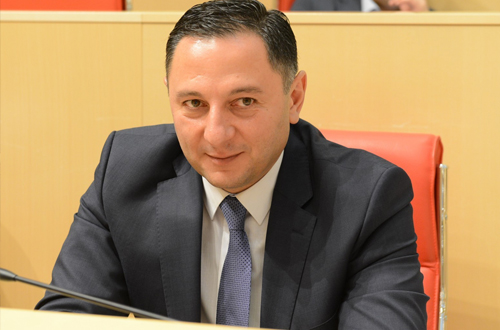 Vakhtang Gomelauri in the Parliament chamber in Kutaisi, July 22, 2015. Photo: parliament's press office
Parliament confirmed on July 22 Vakhtang Gomelauri for a six-year term as head of the State Security Service, which will be established from August 1 as a result of decoupling intelligence and security agencies from the Interior Ministry.
Gomelauri, 39, who served in security detail of ex-PM Bidzina Ivanishvili before becoming deputy interior minister in spring 2013, held Interior Minister's post since January, 2015.
PM Irakli Garibashvili has yet to name who will replace Gomelauri as the Interior Minister.
Opposition lawmakers from UNM party criticized Gomelauri's candidacy. Referring to his background as Ivanishvili's bodyguard, they were claiming that Gomelauri would be accountable before the ex-PM, not before the Parliament.
"All those claims that the security agencies are being depoliticized are farce and appointment of [Gomelauri], who is loyal to Ivanishvili, proves it," UNM MP Chiora Taktakishvili said.

In his speech MP Zurab Abashidze of the Free Democrats, opposition party which up until November 2014 was part of the GD ruling coalition, neither criticizing nor expressed support towards the nomination. MP Abashidze said that he had "no reason to question reputation" of Gomelauri and also added that the head of the State Security Service should "act based on state interests not based on interests of a single person."
Before the nomination was discussed at a parliamentary session, Gomelauri was heard by a group of lawmakers at a joint session of parliamentary committees on human rights and defense earlier on July 22.
During the committee hearing, which lasted for about an hour, Gomelauri named among the priorities counter-intelligence and prevention of infiltration of "foreign countries' special services" to the Georgian state institutions, as well as "prevention of radicalization of our citizens" by extremist and terrorist groups, in particular by the Islamic State group.

Opposition UNM lawmakers criticized Gomelauri for not even mentioning Russia as a threat while presenting his priorities during the committee hearing.
Responding to this criticism, Gomelauri said: "Whether it is Russia or our other neighbors, strategic partner countries – it does not matter, special services work on all the directions and one of them might be Russia, but Turkey, Azerbaijan, Armenia are our neighbors – our partner countries, but our counter-intelligence works on all the directions"
On placing of new demarcation signposts along the breakaway South Ossetian administrative boundary line, Gomelauri said that Georgia should respond to these "provocations" "cool-headedly." "We know what happened to us by yielding to provocations in 2008," he said, referring to the war with Russia.
Committee hearing was briefly interrupted by verbal insults between some GD and UNM lawmakers. Most of the UNM MPs walked out of the committee meeting after that. GD MP Zaza Papuashvili, a theater actor, said of UNM lawmakers: "One should be breaking their heads day and night."
At the parliamentary session GD ruling coalition MPs were praising Gomelauri and the reform through which the security and intelligence agencies were decoupled from the Interior Ministry.
"I know him [Gomelauri] for a long time already; we were together in the opposition, then we came into power together and I know him as a very principled person with iron nerves," GD MP from the National Forum party, Gubaz Sanikidze, said.
MP Davit Saganelidze, the leader of GD parliamentary majority group, praised Gomelauri as "patriot, honest" person "loyal to his country" and dismissed opposition lawmakers' criticism as "demagoguery."
Gomelauri's nomination was confirmed with 83 votes to 0; UNM and Free Democrats lawmakers were not in the chamber during the vote.