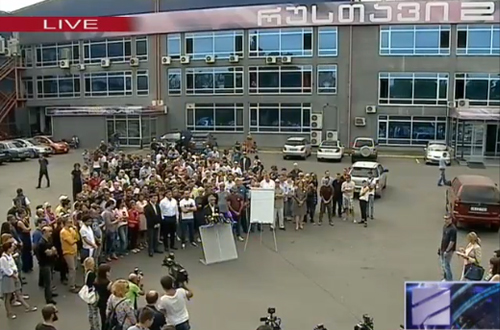 A screengrab from Rustavi 2 TV footage showing broadcasters' staff outside its headquarters in Tbilisi, October 1, 2015.
Georgia's most-watched broadcaster, Rustavi 2 TV, which is locked in a court battle over ownership dispute, said on October 1 that new "government-orchestrated" move against the station is cutting off a USD 6 million lifeline investment needed for sustaining its operations.
A new development in the ongoing ownership dispute has also embroiled the Justice Ministry's National Agency of Public Registry (NAPR) in a controversy after the agency was accused of being involved in an alleged attempt by the government to take over the opposition-minded television station.

"Do not be deceived by what you see now on TV screen. The fact that we are now broadcasting does not mean that the government is not doing everything in order to cease our broadcasts," said Rustavi 2 TV CEO Nika Gvaramia in a televised address, standing alongside with dozens of company employees outside its headquarters in Tbilisi.
"Today we are as close to ceasing broadcasts as never before," he said.
"I promise to the government that before Rustavi 2 TV is closed down, it will be you [the government] who will be shut down," said Gvaramia, who held senior government posts till late 2009 in ex-President Mikheil Saakashvili's administration. He has also appealed viewers to donate money to Rustavi 2 TV.
The court dispute over ownership of Rustavi 2 TV, which has changed hands for multiple times since 2004, started in early August, when Kibar Khalvashi, co-owner of the broadcaster in 2004-2006, filed a civil lawsuit in the Tbilisi City Court seeking to claim back his shares.
As an interim measure before the verdict, court ordered asset freeze, banning, among other things, current shareholders from selling their stakes.
91% of shares in Rustavi 2 TV, which now earns more in advertisement revenue than several of its main competitors combined, are currently owned, directly and indirectly, by Levan Karamanishvili and Giorgi Karamanishvili. The rest is owned Nino Nizharadze, who inherited 9% of shares from her husband Gogi Gegeshidze, who died in March, 2014.
Levan Karamanishvili and Giorgi Karamanishvili, who are believed to be ex-President Mikheil Saakashvili's associates, own 40% of Rustavi 2's shares directly and 51% through a company called "TV Company Georgia"; technically this latter is the major shareholder of Rustavi 2 TV.
Earlier on Thursday, Kibar Khalvashi's lawyer announced that upon his client's request and as an additional injunction in ownership dispute, the Tbilisi City Court ordered on September 30 asset freeze of TV Company Georgia, which bans its owners – Levan Karamanishvili and Giorgi Karamanishvili – to sell their stakes in this company. Court rejected request to freeze bank accounts of TV Company Georgia, and other owners of the Rustavi 2 TV.
Khalvashi's lawyer, Paata Salia, said that such motion was filed after his client learned about intention of Levan and Giorgi Karamanishvili to sell TV Company Georgia to Dimitri Chikovani, brother-in-law of Davit Kezerashvili, who served as Georgia's Defense Minister in Saakashvili's administration. For few days after the October, 2012 elections in which UNM was defeated by the GD ruling coalition, some of Rustavi 2 TV shares were held by Kezerashvili.
The deal would have made Chikovani 51% owner of Rustavi 2 TV through TV Company Georgia. Salia said that this deal would have further complicated complex ownership dispute and his client's bid to reclaim Rustavi 2 TV.
Rustavi 2 TV has confirmed that this deal was agreed upon, which aimed at attracting a USD 6 million investment to ensure the broadcaster's operation while its assets are frozen.
Rustavi 2 TV CEO Gvaramia said that although the broadcaster is self-sustained through ad revenues, the asset freeze, which also cut its access to bank loans needed for its smooth operation, made the owners to think about "attracting investments" and decided to sell TV Company Georgia.
Rustavi 2 TV had over GEL 21.5 million in advertising revenue in the first half of 2015, more than twice as much as its main competitor Imedi TV.
According to the deal the buyer was paying USD 400,000 for TV Company Georgia and in addition taking commitment to "invest in/allocate funds to" Rustavi 2 TV in an amount of USD 3 million before the end of this year and another USD 3 million no later than February, 2017 "if necessary" upon the broadcaster's request.
But this deal has not been formally finalized.
In order for a contract to become valid it has to be registered by the Justice Ministry's National Agency of Public Registry (NAPR).
NAPR, however, has not registered the contract, submitted on September 29, citing shortcoming in a wording of registration application. By delaying the process the agency bought time for Khalvashi and his lawyers to file a motion with the Tbilisi City Court to freeze assets of the TV Company Georgia, effectively blocking the deal.
Rustavi 2 TV and its lawyers claim that NAPR delayed the process deliberately, suggesting that the various branches of the authorities are acting in concert in an attempt to take over Rustavi 2 TV through Khalvashi's groundless lawsuit. NAPR has denied the allegation as "groundless."
Rustavi 2 TV CEO Gvaramia also accused Tbilisi City Court judge Tamaz Urtmelidze, who is adjudicating the lawsuit, of acting upon ex-PM Bidzina Ivanishvili's instructions, claiming that the judge has been bribed by the billionaire ex-PM.
"Soil will burn under judge Urtmelidze's feet," Gvaramia said. "He will never find a safe haven in this country."
In a statement later on Thursday the Tbilisi City Court condemned "statements containing threat and pressure on the judge."
Khalvashi's lawyer, Paata Salia, said that Gvaramia's "hysteria" about possible suspension of broadcasts by Rustavi 2 TV aims at giving the dispute "political context" and exerting "pressure" on the judiciary.
Lawmakers from the GD ruling coalition say that the lawsuit is a dispute between private entities in which the government has nothing to do – a similar position was voiced by PM Irakli Garibashvili when the lawsuit over ownership was first filed in August.
UNM's Giga Bokeria said: "If Rustavi 2 TV is no longer able to provide the public with information, it will be a serious step towards de-legitimization of the incumbent government."
Leader of the Free Democrats party Irakli Alasania said: "This campaign against Rustavi 2 TV – whether someone likes its editorial policy or not – is dangerous because it closes space which is essential for competitive environment ahead of [next year's] parliamentary elections… All the healthy forces in the country should get together to confront this campaign."