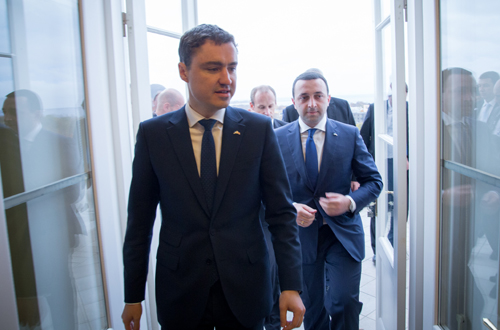 PM of Estonia Taavi Rõivas (left) and PM of Georgia Irakli Garibashvili (right), Tallinn, November 2, 2015. Photo: Tauno Tõhk/Estonian government communication office
Georgian PM Irakli Garibashvili, who is paying a two-day visit in Tallinn, met his Estonian counterpart Taavi Rõivas on November 2.
A joint press conference of the two prime ministers after their meeting was dominated by questions about issues related to Rustavi 2 TV ownership dispute and Georgia's former president Mikheil Saakashvili.
In his opening remarks, PM Taavi Rõivas said that he had a "thorough" discussion on broad range of issues. He said that Georgia is a "very important partner and dear friend" and reiterated his country's support to Georgia's EU and NATO aspirations, as well as to its territorial integrity. The Estonian PM also said that the world should not forget that 20 percent of Georgian territories remain under Russian occupation.
On Georgia's efforts to achieve visa free regime with the EU, the Estonian PM said: "After all the criteria are fulfilled, and I believe they are fulfilled, there will be no subjective obstacles to these negotiations, so I hope to see positive decisions soon."
The European Commission is expected to release its report on Georgia's implementation of visa liberalisation action plan in mid-December. Tbilisi hopes that the Commission will recommend the EU member states granting visa free regime to Georgia.
The Georgian PM said "Estonia is a true friend of Georgia" and thanked Estonia for its "firm support" for Georgia's territorial integrity, as well as for Georgia's European and Euro-Atlantic aspirations.
PM Garibashvili said that the visa liberalization is "a critical element of our European integration agenda. He said that granting visa free regime to Georgia would be "a concrete demonstration of the EU's long stand[ing] support for Georgia and its European choice" and it would be "a long-awaited tangible award for the reforms."

Asked by an Estonian journalist about media freedom in Georgia in the context of developments over the Tbilisi-based Rustavi 2 TV, which accuses the government of trying to take over the broadcaster through a court case on ownership dispute initiated by a former owner, the Georgian PM responded that Georgia has achieved "a remarkable progress" over the past three years with respect to media freedom.
"I can tell you very proudly that Georgia is the leader in the wider region for media freedom and media pluralism," Garibashvili said and added that the court case is a private dispute and the government has nothing to do with it.
"We have no intention to interfere in that court [case]," he said.
He was then asked by another Estonian journalist about ongoing process of termination of Georgian citizenship to former president Mikheil Saakashvili, who is now governor of Odessa region in Ukraine. Asked if it means that Saakashvili has no chance to return to the Georgian politics, the Georgian PM responded: "I really did not want to speak about Saakashvili here, but since you asked I have to respond."
"I think that it was his decision, his choice to adopt the citizenship of Ukraine when he became the governor of Odessa region and of course according to the Georgian constitution and legislation the Ministry of Justice was obliged to start legal procedures [for termination of his Georgian citizenship]," Garibashvili said.
"As for his future political goals, I have no intention to become his lawyer and I don't want to predict his future, because this man has already chosen his way," the Georgian PM added.
Pressed again by the journalist if that means that Saakashvili has no chance in the Georgian politics, Garibashvili responded: "If you ask any ordinary Georgian, the answer would be no."
The Estonian PM was asked by a Rustavi 2 TV journalist if the issue of media freedom in Georgia and specifically the case of Rustavi 2 TV, was raised during the meeting.
PM Rõivas responded: "We talked about this topic as well, because we had no obstacles to freely discussing any topic."
"As I understand this is a civil dispute and the Prime Minister has confirmed that the state does everything possible to guarantee that there is a free [court proceedings] at all three instances as envisaged by the Georgian legislation," the Estonian PM said through an interpreter.
He also said that the EU follows this process very closely because media freedom is one of the pillars of the democratic society.
After the Estonian PM finished answering the question, his Georgian counterpart intervened by returning back to the question about Saakashvili and said by referring to recently leaked wiretapped recordings of the ex-president: "There is no space in a democratic and civilized country to a politician, who is encouraging his party members and director of a TV channel to organize criminal gangs and organize a revolution and coup d'etat."
"I think the place for that kind of person, no matter who it is – whether it is a politician or a journalist, is in prison," PM Garibashvili said.
"Several days ago several audio recordings were [leaked in which] Mr Saakashvili and his party members [are] talking about preparing revolution and coup d'etat in Georgia – this is his dream," PM Garibashvili said. "Georgia is today a strong democratic country; it's a stable country and of course we are committed to continue our way towards the European family and our aspiration to become a member of EU and NATO."