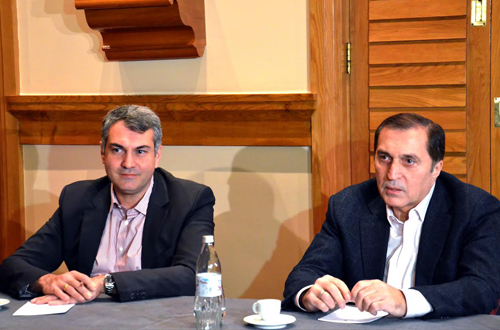 Paata Burchuladze (right) and Vano Matchavariani (left), executive director of newly established Georgian Development Foundation seen during a meeting in Tbilisi on November 20, 2015.
A renowned bass, Paata Burchuladze, whose operatic career spans over 35 years, has launched an new organization, Georgian Development Foundation, fueling speculation about his political ambitions as the movement may serve as a platform for his political activities.
Although noncommittal about future plans, Burchuladze, 60, who has been involved in charity work for children through his Iavnana foundation for over a decade, did not rule out going into politics.
He confirmed canceling "all the contracts" related to his operatic career and performances for next year, when parliamentary elections are scheduled in Georgia.
Asked if cancelation of these contracts for next year means that he will run in elections, Burchuladze told journalists on November 20 in Tbilisi: "It means that this [new] foundation has to be strengthened and I am here for this foundation."
"I never thought of becoming an opera singer, but the life gave me this chance and I used it; I never wanted to be a philanthropist, but life created conditions in which I had to become a philanthropist; as of today I established the foundation and if life shows that [politics] is my path I will do that," Burchuladze said and added when pressed on possible political career: "I do not say either yes or no."
Speculation over Burchuladze's political career swirled briefly at least twice in the past – ahead of the 2008 parliamentary elections and also in 2013, but the launch of the new foundation and his November 20 remarks are the strongest indications yet that he may go into politics.
Burchuladze said that he plans series of meeting both in Georgia and aboard with representatives of civil society organizations and various individuals to present the foundation's plans.
He also said that "official presentation" of the Georgian Development Foundation (GDF) will be held in December, where details of the group's goals and plans will be laid out.
On November 20 Burchuladze met some of the members of his new foundation.
Vano Matchavariani, who served as foreign policy adviser to President Giorgi Margvelashvili before resigning in June 2014, is an executive director of GDF.
Others in his team are: Davit Jandieri, who served as First Deputy Justice Minister for about a year till late November 2013; Khatuna Lagazidze, a frequent media commentator on foreign and domestic political affairs, and Giorgi Rukhadze, a former member of now actually defunct party Christian-Democratic Movement.
Rukhadze, who is in charge of foreign affairs in GDF, said that the group's foreign policy priorities are based on Georgia's European and Euro-Atlantic integration goals.
Along with Burchuladze and Matchavariani, the organization's supervisory board also includes businessmen Merab Tkeshelashvili, who was mayor of Rustavi till mid-2005, and Irakli Gurchiani, a co-owner of Toyota dealership and service center in Georgia.