PM-designate: 'no significant, dramatic changes expected in cabinet'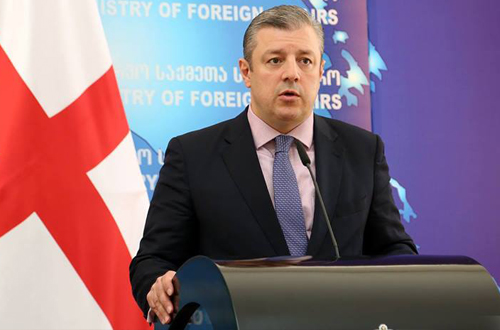 Giorgi Kvirikashvili. Photo: Georgian MFA
Giorgi Kvirikashvili, former economy minister and now foreign minister, has been named by the Georgian Dream ruling coalition as Prime Minister-designate to replace Irakli Garibashvili, who announced resignation on December 23.
The Parliament, where GD coalition holds the majority, is expected to confirm Kvirikashvili and the new cabinet, which the PM-designate has yet to name, on December 29.
Kvirikashvili is set to become Georgia's third PM since GD coalition came into government in late October, 2012, preceded by Bidzina Ivanishvili and Irakli Garibashvili.
"Consultations were ongoing yesterday within the parliamentary majority group… and we have agreed to name Giorgi Kvirikashvili's candidacy for prime minister' post," MP Zviad Kvatchantiradze, the leader of the Georgian Dream parliamentary majority group, said.
He made the announcement at a meeting of GD lawmakers in the Parliament's Tbilisi chamber on Friday morning also attended by Garibashvili and Kvirikashvili. After MP Kvatchantiradze's opening remarks, the meeting continued behind the closed doors.
President Giorgi Margvelashvili will have to formally present the nomination for confirmation to the Parliament. Prime Minister-designate will then nominate other cabinet members; support of at least 76 PMs is required for the cabinet to win 150-member Parliament's approval.
In brief comments with journalists after the meeting with GD lawmakers on December 25, Kvirikashvili said consultations will now continue on composition of his cabinet.
"I do not think we should expect significant, dramatic changes; there might be several changes," said Kvirikashvili, who thanked the GD parliamentary majority for nominating him.
Among likely changes, widely reported in the media, is Nodar Khaduri losing post of the Finance Minister.
Kvirikashvili's nomination did not come as a surprise. The Georgian media sources were reporting about Kvirikashvili being the most likely nomination to replace Garibashvili hours before the latter announced about resignation on December 23.
A senior GD lawmaker Gia Volski confirmed that the parliamentary majority was going to name Kvirikashvili late on December 24; he said the nomination was picked from four potential candidates.
Kvirikashvili has served as Foreign Minister since early September, 2015; before that he was the Economy Minister.
Kvirikashvili, who has spent most of his career in financial and banking sectors before becoming Economy Minister in late October 2012, was a member of Parliament in 1999-2004 with the New Rights Party; he was deputy chair of the parliamentary committee on economic policy. Kvirikashvili was director general of ex-PM Bidzina Ivanishvili's Cartu Bank in 2006-2011.
Garibashvili, who was present at the meeting with GD lawmakers on December 25, told journalists that the parliamentary majority picked "a very good candidate" for PM and wished Kvirikashvili success.
Garibashvili, who in his resignation statement did not name any specific reason behind his decision to step down, declined to elaborate when pressed by journalists and said that he explained "everything clearly" in his statement made on December 23.
"I was thinking about this decision for a long time… and I chose the right time for announcing this decision," said Garibashvili, who formally remains an acting PM before the Parliament confirms new one. "My principle has always been to exit as a winner and I think I chose the right time."
"Now I am going to simply have a rest," said Garibashvili, who is also chairman of the Georgian Dream-Democratic Georgia, the largest party within the GD ruling coalition. His remarks may suggest that he will also quit this post, but it is not yet finally clear.