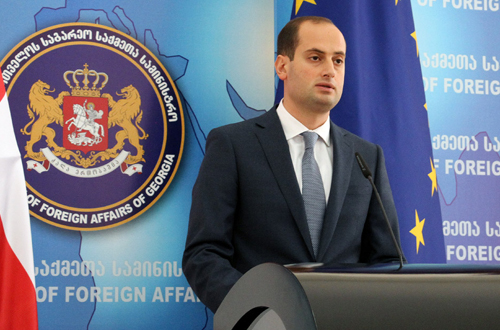 Mikheil Janelidze, who was nominated as Foreign Minister, has served as First Deputy Foreign Minister since September, 2015. Photo: Georgian MFA
PM-designate Giorgi Kvirikashvili said on Saturday that for now he plans no changes in the government and will nominate the same cabinet members for confirmation in the Parliament.
The only newcomer in the cabinet will be first deputy foreign minister Mikheil Janelidze, whom Kvirikashvili has named as his replacement on the post of Foreign Minister.
"As a prime ministerial candidate, at this stage I will nominate to the Parliament for confirmation current composition of the government without changes – the team with whom I have been working from the very first day [of its formation]," Kvirikashvili said in a written statement released in the evening of December 26.
"I will nominate Mikheil Janelidze on the post of Foreign Minister. In case of winning confidence vote in the Parliament, I will be able to study thoroughly the work of each ministry and minister, their strategy, long and short-term plans from the position of the Prime Minister, which, I am convinced, will allow me to take the right and rational decision in the future," reads the statement.
"I do not rule out that there will be changes in the government in the near future," Kvirikashvili added.
Mikheil Janelidze, 34, whom the PM-designate named as new Foreign Minister, has served as First Deputy Foreign Minister since September 2015, when the ministry was led by Kvirikashvili.
Before that Janelidze served as Deputy Economy Minister since November 2011 – also during Kvirikashvili's tenure as Economy Minister in a period between late October, 2012 and September, 2015.
He was head of foreign trade and international economic relations department at the Economy Ministry in 2009-2011.
Janelidze, who has graduated international relations from the Tbilisi State University, holds masters in business administration from the Grenoble Graduate School of Business.
He has also completed postgraduate studies in international law from the Russian Foreign Ministry's Diplomatic Academy.
In 2011 he was awarded with the Order of Honor by then President Mikheil Saakashvili.
A day before announcing that no reshuffle of the incumbent government is planned, PM-designate Kvirikashvili told journalists on Friday that although he intended "no significant, dramatic changes, there might be several changes" in the cabinet. Among the possible changes, which were widely reported in the media up until Kvirikashvili's announcement that no reshuffle was planned, was Nodar Khaduri losing post of the Finance Minister.
The Parliament is expected to start confirmation hearings from Monday and the vote is planned for December 29.
Kvirikashvili was nominated by the ruling Georgian Dream coalition as PM-designate after Irakli Garibashvili announced resignation.